Lance Hatfield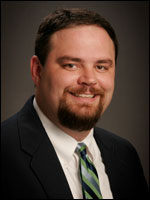 Lance Hatfield was recruited to the University of Missouri in January 2011 to take a leadership role in developing the Sport Venue Management emphasis area. Prior to this appointment, he served as the opening director of The Coliseum at the University of West Georgia in Carrollton. He currently serves as vice-chair of the Universities Committee for the International Association of Venue Managers (IAVM).
He has written a number of book chapters and articles for both peer-reviewed and trade journals. Hatfield has also made presentations and served on panels at regional, national, and international conferences. His primary research interests include organizational and consumer behavior in sport and entertainment.
Hatfield completed his undergraduate work in history at Liberty University. He has a M.S. in sport administration from the University of Southern Mississippi, and his doctorate is from Texas A&M University.
Reviewed September 10, 2013.