Kelly Liao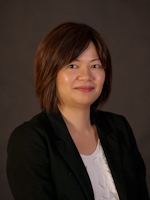 Kelly Yu-Hsin Liao, Assistant Professor at the University of Missouri-St. Louis, received her Bachelor of Science degree (Research Specialist in Psychology) from University of Toronto and her Ph.D. (Counseling Psychology) from Iowa State University in 2011. Her main research interests include coping with stress and intolerance of uncertainty. In term of coping with stress, she is interested in 1) coping with racial and sexual discrimination, 2) coping with acculturative stress, and 3) the mediator and moderator variables in the process of coping with stress. Her cross-cultural upbringing in the U.S., Canada, and Taiwan motivate her to conduct research in the intersection of Asian-American/Asian Psychology and Stress and Coping. She is particularly interested in examining cultural relevant stressors among ethnic minority individuals and conducting longitudinal studies focusing on identifying coping resources for them. She has also extended her research to examining coping with stigma-related stressors among LGBTQ individuals.
Regarding intolerance of uncertainty, she is interested in exploring the mediator and moderator variables between intolerance of uncertainty and negative mental health outcomes. She also studies how intolerance of uncertainty influences individuals' exposure to different sources of stress including acculturative stress, perceived racial stress, and discrimination.
Liaohas published articles in Journal of Counseling Psychology, Journal of Clinical Psychology, Journal of Personality, and Counseling and Values. She has strong background in Quantitative Psychology and this has prepared her to teach classes ranging from statistics, psychometrics, and research methods to more applied psychological assessment classes.
Clinically, she completed her pre-doctoral internship at the Student Counseling Center at University of Missouri-Columbia in 2011. She enjoys clinical supervision. Her main theoretical orientation draws from Interpersonal Process Therapy although she also incorporates a variety of interventions from different theoretical approaches.
Reviewed September 10, 2013.