Affordable & Open Educational Resources Taskforce
Welcome to the Affordable & Open Educational Resources Taskforce


About the Initiative
The UM System Affordable & Open Educational Resources (A&OER) initiative works to enhance the use of affordable and open educational resources at the university. A&OER provide students immediate and unlimited access to course materials, enhance learning by providing up-to-date and interactive resources, and lead to greater retention and graduation. Additionally, they help to lower the cost of education.
A&OER also benefit faculty as they can easily tailor course materials to keep content relevant and up-to-date. To support faculty in transitioning to more affordable and open educational resources, the A&OER Taskforce, formed in 2017, has created a faculty-first grant funding programs for all UM System faculty who which to adopt or develop new A&OER course materials. Information on A&OER, the taskforce, and the grant program is below.
What are A&OER and why are they important?
Open Educational Resources (OER) are defined in this manner by The William and Flora Hewlett Foundation:
OER are teaching, learning, and research resources that reside in the public domain or have been released under an intellectual property license that permits their free use and re-purposing by others. Open educational resources include full courses, course materials, modules, textbooks, streaming videos, tests, software, and any other tools, materials, or techniques used to support access to knowledge.
Through adopting free or low-cost textbooks and digital course materials, it helps us control the cost of educational resources. The importance of this type of cost reduction for our students was highlighted in an American Enterprise Institute report (September 1, 2016). The report compared the Consumer Price Index (CPI) from January 1998 to July 2016 for college textbooks to the CPI for All Items and Recreational Books. They found that "college textbook prices have increased by 90% while recreational book prices have fallen by more than 35%.," as illustrated by the graph below.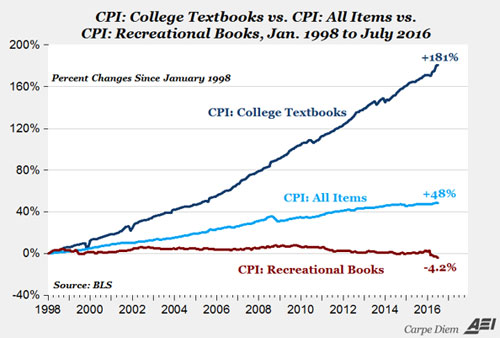 The cost of textbooks affects the academic choices and success of our students. If textbooks are prohibitively expensive, students will:
Find illegal PDFs online
Not purchase educational resources
Buy an outdated edition
Not acquire educational resources at all
In fact, a survey conducted at University of Missouri - Columbia in the Fall 2016 showed that 61% of students reported not purchasing a required textbook for a class and 75% of students reported delaying purchase of required course materials.
Adopting open access or low-cost educational materials can significantly decrease the cost burden while still providing students with resources to excel.
A&OER Grant Application Information
Click on a header to expand the selection and uncover additional information.
Faculty Experiences with A&OER
A&OER Taskforce
The A&OER Taskforce, comprised of faculty, students, librarians, instructional designers, and the system bookstore was created in the summer of 2017 under the leadership of President Choi (see member list below). The taskforce is focused on five main priority areas:
Providing more affordable and open educational resources to enhance student learning and increase cost savings for students.
Engaging faculty in converting existing and developing new courses into O/AER courses.
Increasing sustainable support, resources, and tools for faculty using affordable/open resources.
Developing a sustainable system-wide strategy to:

Increase awareness of affordable and open resources
Incentivize the transition to those resources
Encourage UM created materials to be shared as open resources

Identifying collaborative partnerships at each campus to ensure sustainability & quality of the initiative
| Campus | Last Name, First Name | Area |
| --- | --- | --- |
| MU | Atkins, Grace | Library |
| MU | Keller, Steve | Faculty |
| MU | Orbann, Carolyn | Faculty |
| MU | Willett, Nathan | ISC Representative (undergraduate) |
| S&T | Bhowmik, Palash | ISC Representative (graduate) |
| S&T | Hammons, Angela | Educational Technology Specialist |
| S&T | Woelk, Klaus | Faculty |
| UMKC | Curtis, Scott | Library |
| UMKC | Messina, Melissa | Educational Technology Specialist |
| UMSL | Herx, Dylan | Educational Technology Specialist |
| UMSL | Stuerke, Pamela | IFC Representative |
| All Campuses | Pollard, Sherry | Bookstore |
| UM System | Graham, Steve | Academic Affairs |
| UM System | Moore, Jana | Academic Affairs |
| UM System | Wood, Jill | Academic Affairs |
Taskforce Charter
Develop and Track Metrics & Evaluation Plan
Metrics will include but not be limited to cost savings as well as student outcomes.
The UM Taskforce will be responsible for developing and tracking metrics.
The UM Taskforce will define what a 'successful' A&OER program looks like based on the metrics tracked.
Build Awareness through Promotion and Training
Awareness building will be led by the UM Taskforce but will coordinator closely with Campus Committees.
A unifying communication strategy will be decided upon by the UM Taskforce with communication channels to be determined with the campuses.
A Communication Tool Kit will be available on SharePoint for all campus committees to access and share with faculty during campus trainings and other outreach efforts.
The UM Taskforce will implement eight (8) outreach strategies to track interest in and adoption of the A&OER course materials. The UM Taskforce will coordinate with the campus committees to track and evaluate the success of each strategy.
Create & Support Tools, Resources, and Business Processes
Campuses committees will identify the A&OER processes, tools, and resources currently available to faculty on each campus.
With input from the campus committees, the UM Taskforce will make a unifying recommendation for the creation and support of tools, resources and business processes needed to build and sustain the initiative.
The campus committees will be responsible for ensuring the recommendation is deployed and provide feedback to the UM Taskforce.
Design & Implement Grant Program
The UM Taskforce will create a grant funding program for faculty and departments who wish to review and/or adopted A&OER course materials.
The grant program will be developed with feedback from IFC and other faculty.
UM Academic Affairs will be responsible for funding the program.
Identify & Execute Recognition Opportunities for Participation
The UM Taskforce will make a recommendation to the Office of the President regarding recognition of A&OER adopters.
Each campus committee will be responsible for determining whether to recommend additional campus recognition for A&OER adopters.
Distribute UM-Created Resources
In the spirit of Open Educational Resources, the UM Taskforce will coordinate with the campus committees to ensure that UM-Created A&OER resources are made available to the public.
A&OER Campus Committees
In addition to the system-wide task force, each campus has its own committee focused on supporting the use of A&OER in the classroom. Each campus committee chair is listed below.
MU: Grace Atkins, Outreach Librarian, Libraries
UMKC: Scott Curtis, Teaching and Learning Librarian, Libraries
Missouri S&T: Angie Hammons, Technology Resource Director, Education Technology
UMSL: Pamela Stuerke, Associate Professor, Accounting
A&OER in the News
Campus Resources
A&OER Library Guides
AutoAccess
AutoAccess is a collaborative program between the bookstores, faculty and publishers that provides required materials automatically when a student enrolls in the course--at a reduced cost. It provides the required materials automatically when a student enrolls in the course. It is designed to not only improve access to course materials but also to reduce the cost to students. Visit a campus bookstore to learn more:
Additional Resources

For questions about the A&OER initiative, contact umoer@umsystem.edu.
Reviewed 2017-11-17.