The University of Missouri System is dedicated to identifying opportunities to support student mental health and well-being. Student well-being is closely linked to student success, both academically and professionally, and issues relating to student mental health have become prominent in news coverage across the country. 
This page provides a system-wide overview of some of the different mental health and well-being initiatives underway at the four universities.

Sanvello
Sanvello is designed to "help people build the life skills they need, anytime, anywhere, in any way they choose." This mobile app, formerly known as Pacifica, was created by psychologists and is based in cognitive behavioral therapy (CBT); it is designed to provide users with the ability to take control of their own well-being. Sanvello is currently available to all students, faculty, and staff members with a university email address. 
Trainings, Workshops & Presentations

Ask, Listen, Refer: Ask Listen Refer is a statewide online suicide prevention training program created for campuses throughout Missouri. It is funded in whole by a grant from the Missouri Department of Mental Health. This training takes approximately 20 minutes to complete.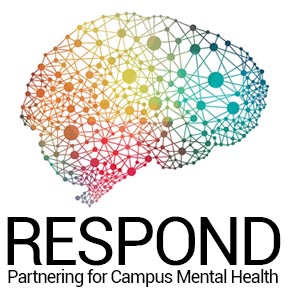 RESPOND: Partnering for Campus Mental Health: All of us experience emotional pain or distress at times in our lives. Most of us want to help yet often feel uncertain about what to do or say. RESPOND will empower you to offer effective support to a student or colleague. The course provides a basic overview of symptoms often associated with mental health problems and offers an action plan to help you RESPOND effectively. The course will address campus policies such as FERPA as well as mental health resources. This is an 8-hour program and is free to attend thanks to generous support from the UM System Board of Curators and the Vice Chancellors of Student Affairs across the four universities.
If you are an academic leader, we encourage you to consider signing up your academic unit! If you are interested in signing up for RESPOND, please reach out to Steven Chaffin at schaffin@umsystem.edu. 
RESPOND webpages: MU | UMKC | UMSL | Missouri S&T
24-Hour Hotlines
Name
How to Access
Details
National Suicide Prevention Lifeline

Provides 24/7, free, and confidential support for individuals in distress. When you call, you are connected to a skilled, trained counselor at a crisis center in your area and they are also able to provide emergency response when appropriate.

The Trevor Lifeline

Provides 24/7 support from trained counselors to LGBTQ youth (ages 13-24) in crisis, feeling suicidal, or in need of a safe and judgment-free place to talk. The TrevorChat and TrevorText are also confidential and secure resources.

Veterans Crisis Line

Call: 800-273-8255 & press 1 

Text: 838255

Provides 24/7, free, and confidential support for veterans, their families, and their friends. 
Missouri Crisis Text Line
 
Life Crisis Services

Call: 314-647-HELP (4357)

 
Behavioral Health Response (BHR) Access Crisis Intervention (ACI)
BHR provides confidential telephone counseling to those experiencing a mental health crisis. They also provide mobile outreach and community referral services and critical incident stress management (CISM). Those who call the crisis hotline will speak to a paid professional staff member who holds a masters degree in a behavioral science discipline.
University Counseling Centers
Center Name
Center Location and Resources

University of Missouri -- Columbia (MU) Counseling Center

24-hour crisis services: 573-882-6601

Parker Hall; 406 S 6th St., Columbia, MO 65201

University of Missouri—Kansas City (UMKC), Counseling Services

8AM-5PM crisis services: 816-235-1635

After business hours & weekend crisis services options: nearest hospital emergency room; call 911; call campus police at 816-235-1515

Brookside 51 Building; 5110 Oak Street, Suite 201, Kansas City, MO 64112

University of Missouri—St. Louis (UMSL), Counseling Services

8AM-5PM crisis services: Counseling Services office at 131 Millennium Student Center (located behind The Nosh cafeteria); call campus police at 314-516-5155

After business hours crisis services options: 314-516-5711; call 911; nearest hospital emergency room

1 University Blvd. 131 Millennium Student Center, St. Louis, MO 63121

Missouri University of Science and Technology (Missouri S&T), Counseling Services

8AM-4:30PM crisis services: 573-341-4211; come to 204 Norwood Hall 

After business hours & weekends: call 911; call S&T police at 573-341-4300

204 Norwood Hall, 320 W. 12th St., Rolla, MO 65409
Reviewed 2019-11-19