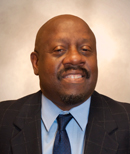 D.M. (Daryl) Hodnett
Director, Supplier Diversity and Small Business Development
1105 Carrie Francke Dr.
Columbia, MO 65211
(573)884-3200
Email | Bio
News and Updates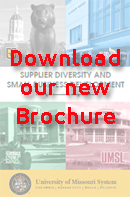 August 26, 2016: The City of Columbia has developed a diverse supplier database for minority and women-owned businesses in the mid-Missouri area. This can be another sourcing tool for seeking out local diverse suppliers. Follow link to go directly to the database.
November 16, 2015: The FY 2015 University of Missouri System Supplier Diversity Summary Report, along with a 5-year spending review, is available for review.
Supplier Diversity and Small Business Development
The University of Missouri System's Supplier Diversity and Small Business Development (SDSBD) effort is part of the Management Services Division. The group is responsible for assisting the four campuses as well as University of Missouri Health Care in increasing supplier diversity expenditures. The goal is to ensure supplier diversity is part of both the pool of suppliers and part of the supply chain in all areas of the university's sourcing activities in our procurement and design and construction groups.
Part of SDSBD's responsibility is to identify minority and women-owned business enterprises (M/WBE) - suppliers/distributors, contractors and design consultants - that are qualified to compete for business opportunities at the university. Selected suppliers have been enrolled in UM System's Advocacy and Mentoring program. The goal is to pair an M/WBE with a majority firm (and a university team leader) for 18 months, who serve as business mentors. Supplier education is at the core of what we do as well.
SDSBD's mission is to help the university in its core objective to improve economic development in the state of Missouri. The supplier diversity effort helps to make these firms stronger and larger, leading to increased employment opportunities for Missourians. We will increase supplier diversity expenditures with the direct spending for goods, services and construction related projects. The university expects an increase in supplier diversity spending by our major suppliers, part of fulfilling their contracts with the university. We will seek the best value we can by having a competitive and inclusive supply base and pool to choose from. Our long-term vision is to be seen among the leaders in supplier diversity among all universities in America.
So what does that mean for you as a prospective supplier?
You must provide us with innovative and more cost effective ways to fulfill our overall sourcing needs.
Help us to achieve greater cost efficiencies.
Assist the University of Missouri achieve their long range business results.
Reviewed 2015-11-09.