Transformation Management
The Office of Transformation Management was established to modernize the operations of the university system to eliminate business as usual. To do this, the office has been tasked with assessing internal procedures to ensure efficient and proper stewardship of resources to sustain the future of the UM System as a premier research institution comprised of four universities, an extension program and health system.
---
Learn more about the programs within the office's scope, such as Administrative Tranformation.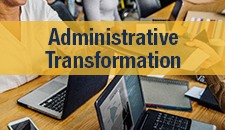 Reviewed August 02, 2019.