Administrative Leadership Development Program
Information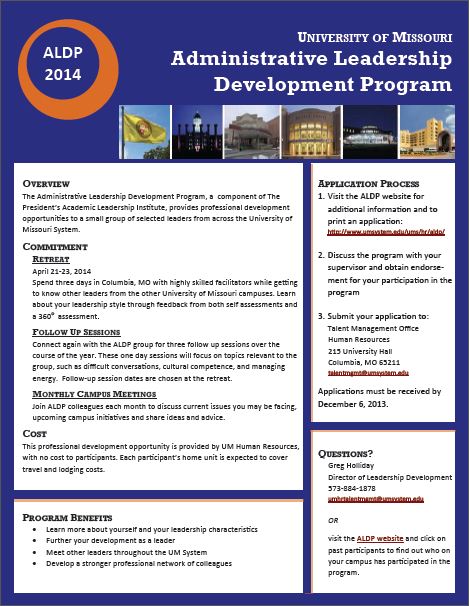 ALDP 2015 Brochure (PDF)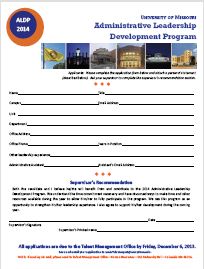 ALDP 2014 Application (Fillable PDF)
From our own voices...
"ALDP provided tremendous insight to my strengths AND weaknesses, and has given me goals to work towards. I feel that I'm already a much more confident leader for my department." --2014 ALDP participant
"The opportunities to learn, grow, engage peers, and build a network are few and far between once you reach a certain level in higher education leadership. I think we all need to take a page out of the books we give our students about pausing and reflecting and putting effort into Quadrant II activities like this. I would highly recommend ALDP." --2014 ALDP participant
The Administrative Leadership Development Program (ALDP) provides professional development opportunities to a small group of selected leaders from across the University of Missouri System. The University of Missouri seeks applications from administrators within the University of Missouri each fall for a spring cohort. We strive to select a diverse group of leaders that includes a wide range of experience and expertise. Potential participants should:
demonstrate performance as an administrative leader;
provide leadership to units with a significant impact on services and resources of the university;
have potential for advancement to other leadership roles;
demonstrate interest in personal and professional development;
have the ability to attend all sessions and activities of the program;
have the active support of his/her supervisor(s) and unit; and
be willing to serve as a "peer coach" to others in the program.
Program Benefits
Learn more about yourself and your leadership characteristics
Further your development as a leader
Meet other leaders throughout the UM System
Work with others to make a difference on your campus
Application Process
Complete the application (located on the ALDP website)
Discuss the program with your supervisor and obtain endorsement for your participation in the program
Submit your application electronically to the Talent Management Office at umhrtalentmgmt@umsystem.edu
Applications must be received by December 6, 2013
An email will be sent confirming receipt of your application
Each applicant will receive an email notifying them whether or not they have been selected to the program
Commitment
Introductory Meeting
A two-hour meeting to get results of your first self-assessment, get a better understanding of the other assessments and pre-retreat work, discuss logistics for the retreat and get answers to any additional questions you may have.
Retreat
April 21-23, 2014
Spend three days in Columbia, MO with highly skilled facilitators while getting to know other leaders from the other University of Missouri campuses. Learn about your leadership style through feedback from both self-assessments and a 360o assessment.
Follow-up Sessions
Connect again with the ALDP group for three follow up sessions over the course of the year. These one day sessions will focus on topics relevant to the group, such as enhancing trust, managing people, and developing a strategic vision. Follow-up session dates are chosen at the retreat.
Monthly Campus Meetings
Join ALDP colleagues each month to discuss current issues you may be facing, upcoming campus initiatives and share ideas and advice.
Cost
This professional development opportunity is provided by the UM Human Resources, with no cost to participants. Each participant's home unit is expected to cover travel and lodging costs.
Event Dates
2014 Potential Cohort
| | |
| --- | --- |
| 12.06.13 | 2014 Cohort Applications Due |
| 04.21-23.13 | 2014 Cohort Retreat |
2013 Cohort
| | |
| --- | --- |
| 04.16-18.13 | 2013 Cohort Retreat |
| 06.27.13 | Follow-up Session #1 |
| 11.04.13 | Follow-up Session #2 |
| 02.20.14 | Follow-up Session #3 |
Questions
Office of Talent Management
573.884.1878
talentmgmt@umsystem.edu

Greg Holliday, Ph.D., Director of Leadership Development
Jill Wood, Ph.D., Director of Talent Management
Katina Volle, Coordinator of Talent Management

Contact a past participant (list located on LDP website)
Reviewed 2015-03-03.