Contact Information
Phone:
884-6996 (Columbia, MO)
OR 855-524-0002 (toll free)
Email:

PS HR Support
Hours of Operation:
Monday-Friday |
8:30 am - 4:30 pm
Resources:
News of the Week
Congratulations to...
Richard Graff (Software Support Analyst, Missouri Rehabilitation Center, Mount Vernon, MO) who on Wednesday June 22, 2011, became the first person to connect with PSHRSupport. We hope Richard had a great experience and we look forward to the first time we're able to connect with you!
---
Our New Support Specialist ...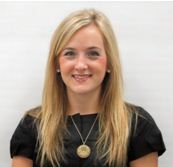 Hello,
My name is Lindsey Blank and I am the Support Specialist for the PSHRSupport Group. I recently joined the MU Human Resources team after working for Cerner. While at Cerner I implemented the PeopleSoft system at multiple hospitals in various locations throughout the United States. I am a 2010 graduate of the University of Missouri, Columbia Campus where I received a Marketing degree. I also worked in the student administration group from 2007 -2010.
I look forward to assisting you with all your PeopleSoft issues and helping the PSHRSupport Group develop into a one of your trusted resources in the Human Resources Organization.
Best Regards,
Lindsey
Reviewed 2011-07-01.