The nationwide search for the Executive Director of the Thompson Center for Autism and Neurodevelopmental Disorders and Thompson Endowed Chair in Child Health has begun.  Reporting to the Executive Vice Chancellor of Health Affairs, the Executive Director will build on the existing world-class programs, expand upon continued growth and broad impact for families, professionals, and trainees, and will provide visionary leadership to the Center's interdisciplinary programs and oversee faculty, staff, and programs.

View the position profile
The following members agreed to serve on the search committee: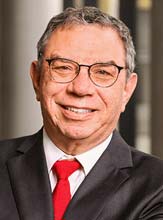 Dr. Richard Barohn
Chair
Executive Vice Chancellor for Health Affairs
Search Committee Members:
Ron Ashworth, Foundation Board Member 
Jonathan Curtright, Chief Executive Officer, MU Health Care
Sarah DeMarchena, Graduate Student, College of Education 
David Gozal, Marie M. and Harry L. Smith Endowed Chair & Professor, Child Health
Kristofer Hagglund, Dean, School of Health Professions
Erica Lembke, Interim Dean, College of Education
Laura Schopp, Chair, Health Psychology
David Schulz, Director & Professor, Biological Sciences
Laine Young-Walker, Associate Dean for Student Programs, School of Medicine & Chair, Psychiatry
Steve Zweig, Dean, School of Medicine
Search Timeline
September 2020: Search Launch 
September / October 2020: Candidate Pool Development 
December 2020 / January 2021: Candidate Interviews
Please send any additional inquiries or feedback to umhrexecutivesearch@umsystem.edu.
Reviewed 2021-01-07