Vice President for Human Resources
Elizabeth "Betsy" Rodriguez, Ph.D.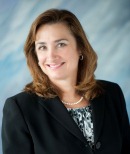 Since 2008, Betsy Rodriguez has served as the Vice President for Human Resources and as a General Officer for the University of Missouri System, a land-grant, research institution with four nationally-ranked universities, including an academic medical center. As chief human resources officer, she provides strategic and operational human resources expertise that maximizes the ability of the university to fulfill its mission and execute its strategic plan. In addition, she oversees the university's HR information system and employee benefits.
Rodriguez previously held the position of Associate Vice President for Human Resources at the University of Colorado System. She held various campus and system level leadership positions during her 13 years at CU.
From 1991 to 1998, Rodriguez held progressively responsible positions in the Colorado Department of Personnel and Administration, culminating in the management of the statewide employee benefits and risk management department which served over 50,000 employees and 30 state departments and higher education institutions.
Rodriguez is a member of the College and University Professional Association for Human Resources (CUPA-HR), has served on the national board, and was recently selected to receive the Distinguished Service Award. She is currently a director of the Greater Missouri Leadership Foundation board. Rodriguez is active in the local Columbia community including serving on the Heart of Missouri United Way board.
Rodriguez earned a B.A. with honors from Vanderbilt University, and a M.A. and Ph.D. in psychology from the University of Missouri-Columbia. She has presented at numerous regional and national conferences, conducted workshops and authored articles in HR and business journals.
Reviewed 2014-06-09.