Vice President for Human Resources
Elizabeth "Betsy" Rodriguez, Ph.D.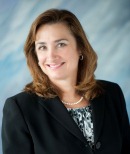 Elizabeth "Betsy" Rodriguez is vice president for human resources for the University of Missouri System. Rodriguez's role is to provide strategic direction for the human resources functions, including labor and employee relations, compensation, faculty and staff benefits, recruitment, professional development, affirmative action and hum resources information system. In this role, she works closely with campus leadership, provosts and human resources professionals to support the university's most critical resource, its people.
Prior to her appointment with the university, Rodriguez served as interim associate vice president for human resources at the University of Colorado system, a role she held from June 2007 to April 2008. From 1998 to 2007, Rodriguez held progressively responsible management and leadership roles for the University of Colorado Denver and its associated Health Sciences Center campus. During her tenure there, she was a leader in the consolidation of these two campuses.
From 1991 to 1998, she served the state of Colorado as a top human resources administrator, including managing the benefits and risk management programs for state and university employees. She worked closely with the governor's office and key legislators on critical risk management and benefit issues. Rodriguez also served as benefits manager at the University of Colorado at Denver from 1989 to 1991. In 1988 and 1989, Rodriguez served as a staff associate for labor relations for the University of Missouri System in the department she now leads as vice president.
Rodriguez holds a bachelor's degree in psychology from Vanderbilt University. She earned her master's and doctoral degrees in psychology, with an emphasis in social psychology, from the University of Missouri-Columbia.
Rodriguez has been selected to conduct seminars at numerous regional and national conferences. Most recently, she was selected as a national board member for the College and University Professional Association for Human Resources.
Reviewed 2011-06-07.