Institutional Effectiveness and Analytics (IEA)
Provides centralized data reporting and analytics for the UM System and its Universities. 
Conducts research and assessment for leaders throughout the University of Missouri System. 
Creates and maintains the data governance strategy for the University of Missouri System. 
UM/MU's Office of Institutional Research and Analytics
Supports the data needs for strategic and tactical UM/MU initiatives.  
Champion key IEA data governance efforts and coordinate appropriate MU/UM data requests. 
Oversees IR-related compliance and responses to external surveys (e.g., IPEDS, US News). 
Understands the internal and external higher education environment in order to provide guidance to leaders.  
Student Data Management and Analytics
Coordinate documentation of student data using UM data governance standards. 
Leadership in data architecture and technical specifications projects (e.g., grad/retention rate). 
Develop and coordinate maintenance of data deliverables, partnering with Planning and Process Improvement. 
Institutional Data Management and Analytics
Explore institutional data and identify gaps, map out data flows and prepare data marts for reporting analysts to explore and provide input. 
Document technical specification, create operational reports, and develop data architecture including data modeling. 
Faculty Analytics
Responsible for all faculty-related data which includes:  

myVITA 
Academic Analytics 
Teaching effectiveness data 
Grants and contracts related data (e.g., awards, proposals, expenditures, compliance) 
Planning and Process Improvement
Managing the total portfolio of projects with IEA. 
Develops and documents processes and policies within IEA. 
Leads process (re)design projects that enhance and improve the work of IEA. 
Provides planning guidance on strategic initiatives.  
Organization Chart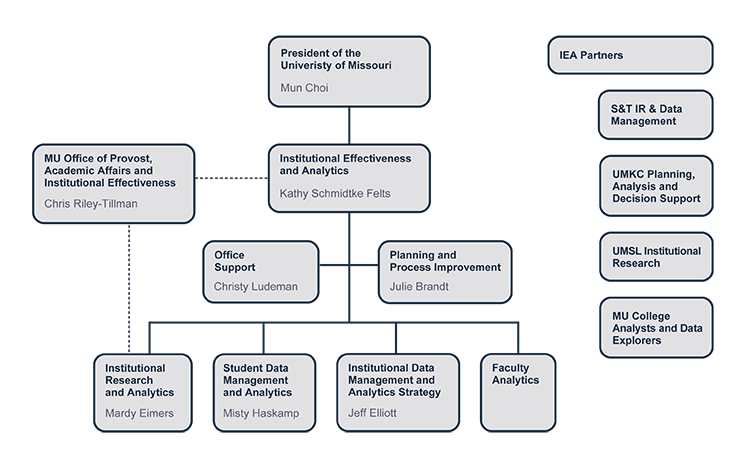 IR/IE Offices
Reviewed 2022-05-06