UM Board of Curators Appoints Stephen J. Owens as next General Counsel
October 05, 2007
Contact: Jennifer Hollingshead
Office: (573) 882-0601
E-mail: hollingsheadj@umsystem.edu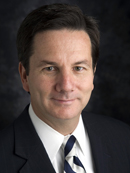 Stephen J. Owens, a Kansas City attorney in private practice for nearly three decades, has been appointed as the next General Counsel of the University of Missouri, the UM Board of Curators announced Friday. The appointment is effective Jan. 22, 2008. Owens succeeds Marvin E. "Bunky" Wright, whose retirement as General Counsel is effective Dec. 31.
Owens, 52, is a partner and Chairman of the Class Action and Complex Litigation Division of Kansas City-based Stinson Morrison Hecker, LLP. The firm has 360 lawyers in eight offices including St. Louis and Jefferson City, Mo., as well as offices across the United States. Owens has served as the firm's Hiring Chairman and as a member of the firm's Board of Directors and its Executive Committee. His broad-based practice has included business litigation, collegiate sports law, drafting and negotiating contracts and administrative law. A veteran of 26 years with Stinson Morrison Hecker, Owens has also co-chaired the firm's Environmental Law Practice Group and its Business Litigation Division. His private practice has included work as outside counsel for the University of Missouri.
A 1977 graduate of the University of Missouri-Columbia with a Bachelor of Science in Public Administration, Owens was the third generation of his family to attend UM; one of his three sons is now a freshman at the University of Missouri-Columbia. Owens received his law degree from Wake Forest University in 1980.
"I am delighted to announce that Steve Owens will be bringing his outstanding leadership abilities and legal experience to the University of Missouri," said Don Walsworth of Marceline, Chairman of the Board of Curators. "Steve has a deep love for our institution, devotion to its great missions and familiarity with our legal operations and responsibilities. He will provide confident and effective guidance to the Board of Curators and the University administration as General Counsel."
Owens and his family have supported the University through the years, including through membership in the Jefferson Club at the University of Missouri-Columbia, and by establishing UMC scholarships in the College of Engineering, the School of Journalism and the College of Agriculture, Food and Natural Resources. His law firm has also established scholarships at the UM schools of law in Columbia and Kansas City to support faculty members and to assist minority law students. Owens has also contributed his service to the University of Missouri-Columbia Development Council and to the Parents Council at UMC.
"This is the University of four generations of my family and I am humbled by this appointment. I have been privileged to represent the University as one of its outside counsel and I want to thank the Board of Curators for now giving me the opportunity to further serve our University as its General Counsel," Owens said. "I also want to thank Bunky Wright for his years of outstanding service to the University. Because of Bunky's good work, I inherit an office of extraordinarily talented and dedicated lawyers and staff. I look forward to working with them, along with other members of the University community."
The UM General Counsel provides legal advice and representation for Missouri's premier public higher education institution, including the Board of Curators, its President and General Officers, its four campuses, University of Missouri Health Care, and University employees acting in their official capacities. As General Counsel, Owens will be paid an initial base salary of $290,000, plus benefits and incentives.
At the Stinson firm, Owens' business practice emphasis has included general business litigation, employment agreements, trade secrets, non-competition agreements, and multi-party complex litigation. In his sports law practice, Owens has represented universities and coaches in NCAA rules compliance and infractions matters as well as contract negotiations. He has represented multiple institutions or individuals associated with institutions, including the University of Missouri, the University of Missouri-Kansas City and Missouri State University, as well as Michigan, North Carolina-Chapel Hill, Texas Christian, Kansas State, Wake Forest, Utah, Miami (Fla.), Cincinnati, Nevada-Las Vegas, St. Bonaventure, Gardner Webb, Stephen F. Austin, Maine and Long Beach State. He is designated "Preferred Counsel" by the Womens' Basketball Coaches Association.
Owens joined the Stinson firm in 1981 after serving as a judicial law clerk to U.S. District Judge William R. Collinson in Missouri's Western District. He has been recognized by his peers with an "AV" rating in Martindale Hubbell and for inclusion in "The Best Lawyers in America" and "The Missouri-Kansas Super Lawyers." He has been a member of The Missouri Bar since 1980, and is also affiliated with the American Bar Association and the Kansas City Metropolitan Bar Association.
Wright has served as General Counsel since March 1, 1998. His accomplishments as an attorney include serving as President of The Missouri Bar, which honored Wright last weekend during its annual convention in Springfield.
"For nearly a decade, Bunky Wright has been a most trusted advisor and wise counselor to the University of Missouri, the Board of Curators and the top administrative leadership. He has represented the University at all times with dignity, ethics and unmatched experience combined with legal expertise," Walsworth said. "The entire University family offers sincere gratitude to Bunky and his wonderful wife Janet for their tireless service to our institution, and we wish them all the best."
For more information about the UM General Counsel's Office, visit:
http://www.umsystem.edu/ums/departments/gc/
For audio from Mr. Owens' introductory press conference, visit:
http://www.umsystem.edu/ums/news/releases/news07100502.shtml
For Owens' law firm biography, visit:
http://www.stinson.com/ourattorneys/attypage.asp?key=2605

Download hi-res portrait of Marvin E. "Bunky" Wright (JPG 376 KB)

Download hi-res portrait of Stephen J. Owens (JPG 217 KB)
Can't find what you are looking for?

Search umsystem.edu: