UM System President Forsee names Leo Morton interim chancellor of UMKC
July 14, 2008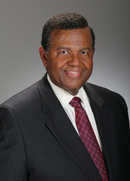 University of Missouri System President Gary Forsee has named Leo Morton as interim chancellor of the University of Missouri-Kansas City. Morton will begin his duties Aug. 1.
Morton currently serves as chair of the UMKC Board of Trustees where he has been instrumental in strengthening relationships between the trustees and faculty on campus. He also has worked closely with Chancellor Guy Bailey on the campus' strategic missions and community relations activities. Until recently, he served as senior vice president and chief administrative officer for Aquila, Inc., an integrated electric and natural gas utility company headquartered in Kansas City, Mo.
"Leo will continue to advance the vision and mission of UMKC, building upon the solid foundation that has already been laid," Forsee said. "He will not be content to merely monitor activities, but will be a valuable asset to the future of the campus. He is the right person at the right time to serve in this role.
"Provost Gail Hackett will continue to lead the day-to-day academic operations of the campus," Forsee continued. "In just a short period of time on the campus, Gail is already making a positive contribution. As has been referenced in the past, particularly in Kansas City's Time to Get It Right report, great cities have great city universities, and this leadership team is committed to that objective."
"Great things are on the horizon at UMKC, and I am honored by the opportunity to serve as its interim chancellor," Morton said. "One of my top priorities will be to continue to engage all of the university's constituencies - including the faculty, staff, students, alumni and friends who are the heart and soul of the university - in important discussions that will shape the future of UMKC."
"For years, Leo has been actively engaged with our campus," said UMKC Department Chair and Associate Professor of Chemistry Kathleen Kilway. "I have been impressed with his unique background, his internal and external leadership on behalf of UMKC, and how well he understands and supports the needs of faculty and students."
Morton served on the leadership team at Aquila since 2000. He also has held leadership positions with AT&T Microelectronics, AT&T Bell Laboratories, General Motors Corporation, Rust Engineering Company and Corning Glass. He received a master's degree in management from the Massachusetts Institute of Technology and a bachelor's degree in mechanical engineering from Tuskegee University.
Forsee expects to have the search process for the permanent chancellor position established in the next few weeks. Morton will not be a candidate for the permanent position.
Editor's note: Gary Forsee and Leo Morton will be available for a telephone press conference at 4 p.m. CST July 14.
Dial-in information is as follows:
Toll Free Dial-In Number: (888) 422-7124
Participant Code: 391277

Download hi-res portrait of Leo E. Morton (JPG 5.85 MB)

View Leo E. Morton's bio (PDF 8.04 KB)
Can't find what you are looking for?

Search umsystem.edu: