University of Missouri Vice President John Gardner appointed VP for Washington State University
June 11, 2007
Contact: Jennifer Hollingshead
Office: (573) 882-0601
E-mail: hollingsheadj@umsystem.edu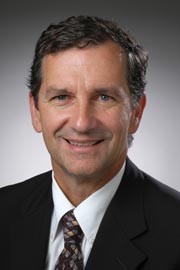 John C. Gardner, vice president for research and economic development for the University of Missouri, will become vice president for economic development and extension for Washington State University on July 1.
Gardner's appointment was announced Monday by WSU President Elson S. Floyd, for whom Gardner worked as a vice president while Floyd was president of the University of Missouri system.
At UM, Floyd established economic development as a formal mission of the institution, and appointed Gardner in October 2005 as the first person to serve as VP for research and economic development. Gardner's portfolio includes coordinating UM efforts to bring research to the marketplace, developing university research parks and, working with national, state and local economic development and governmental officials.
"John Gardner has been a splendid leader in strengthening the University of Missouri's role as an economic engine for our state. On behalf of the University family, I want to express gratitude to John for his hard work and leadership, and wish him well as he opens a new chapter in his career," said UM Interim President Gordon H. Lamb.
"I have begun the process of identifying possible successors to John Gardner," Lamb added. "The University of Missouri is deeply committed to economic development as a basic mission, and we will continue to build on our strong foundation in growing Missouri's economy.
"I have had unbelievable support in my role here at the University of Missouri," Gardner said. "From government, business, and academic colleagues, administration and the Board of Curators – they are all nurturing the economic development mission and see its value for the state of Missouri in the long term."
Gardner will serve as the first person appointed VP for economic development and extension at WSU. Floyd said Gardner would be based in Seattle because it is a hub of economic activity and growth in the state of Washington. Gardner will also work closely with colleagues at WSU's headquarters in Pullman and at each of the university's campuses, as well as in research centers and extension offices around the state of Washington.
Prior to his appointment as UM vice president for research and economic development, Gardner served as associate dean of research and outreach in the university's College of Agriculture, Food and Natural Resources in Columbia. He started working for UM in 1999. Before that, Gardner was one of the founders and the general manager/CEO of AgGrow Oils, which produced, processed and marketed specialty oilseeds.
Gardner earned a bachelor's degree in agriculture and a master's in agronomy from Kansas State University and a doctoral degree in agronomy and crop physiology from the University of Nebraska.
Can't find what you are looking for?

Search umsystem.edu: