Executive Assistant
Nancy Tharpe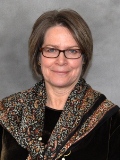 Nancy Tharpe provides administrative and editorial support to the Strategic Communications group and the Office of the President.
For nearly 40 years, she has worked in the public communications field, including in public affairs for a Fortune 500 company; events coordination at the Hyatt Regency San Francisco; publisher of an inflight magazine in Virginia, and as an advertorial editor at The Maui News. She also has directed the Eugene, Ore., chapter of a national nonprofit organization, managed special projects at chambers of commerce in Raleigh and Winston-Salem, N.C.; and served as a legislative assistant for a U.S. congressman in Hawaii and a state representative in Missouri.
Tharpe has worked for the University of Missouri System since 2003, assisting with open records requests, executive searches and activities of the President's Office. She currently writes and proofs copy for the system Website and executive letters, performs research, prepares Collected Rules and Regulations for publishing, and coordinates file retention for the president's office. She is a University of Missouri graduate who is currently enrolled in Mizzou Online.
Reviewed 2013-02-04.
Can't find what you are looking for?

Search umsystem.edu: