Show Me Value
The University of Missouri System provides students access to a quality education surrounded by top-notch professors and world-class research.

The UM System remains a national leader in terms of affordable education, and has now increased tuition on average only 2.4% annually the past five years compared to 5.4% by similar institutions in surrounding states. Source

The UM System provided $224 million in institutional grant aid to students in 2015 – almost double the amount from just a decade ago. Source

More than 75% of all students received some type of financial aid in 2015 totaling more than $906 million. Source

The UM System also provided $86.9 million in student employment payroll. Source

Nationally, the average annual cost for undergraduate tuition, fees, room and board at public four-year institutions was estimated to cost 50 percent less than at private four-year institutions. Source

In addition, the university represents 95.2% of federal research expenditures at Missouri's four-year public institutions; provides more than $60 million annually in unreimbursed health care; offers a broad scope of Extension services; and creates new jobs through economic development.
The University of Missouri continues to be an affordable option for Missouri students and families.
University of Missouri System Sources of Financial Aid, FY 2015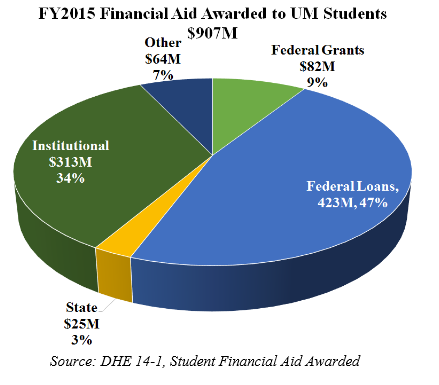 2015-16 In-State Tuition and Fees at Public Four-Year Institutions by State and Five-Year Percentage Change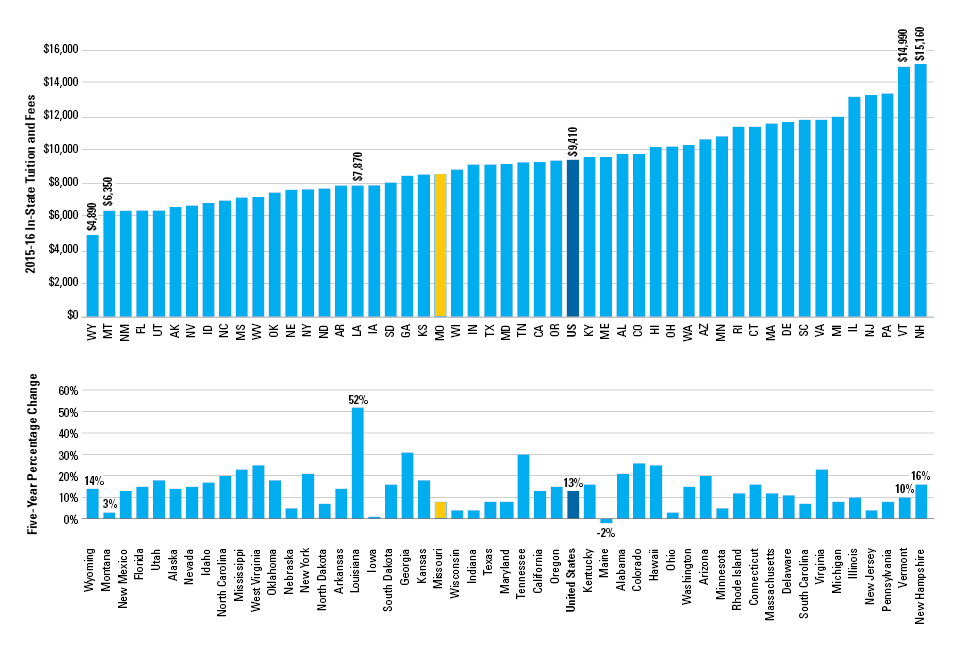 SOURCE: The College Board, Trends in College Pricing 2015, Figure 8

The University of Missouri's resident undergraduate tuition and fees is below the national average.
Average Doctoral In-State Undergraduate Tuition and Fees Compared to UM Campuses

College Costs
Fact Sheet: College Costs - Association of Public Land-grant Universities (PDF)