About the President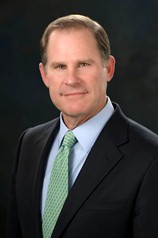 Timothy M. Wolfe is the 23rd president of the four-campus University of Missouri System—one of the nation's largest public research university systems with more than 77,000 students and nearly a half million alumni worldwide.
Since joining the university in 2012, Mr. Wolfe's top priorities have included increasing overall awareness of the role the system's four campuses play in advancing the education, economy, health, innovation, arts, culture and the overall quality of life across the state of Missouri; leading the campuses in a strategic planning process that sets a clear strategy for success in the next five to ten years; finding and implementing opportunities for more efficiencies across the system; investing in the university's human capital and expanding research and economic development initiatives.
Part of his success in leading the university forward is due to Mr. Wolfe's recognized leadership in recruiting, building and leading successful teams by creating innovative strategies and clear execution plans across complex enterprises. He has more than 30 years of experience in information technology, infrastructure software, consulting and sales leadership. He began his career in 1980 at IBM Corporation in Missouri, first as a sales representative in Jefferson City then as a manager in Kansas City. For the next 20 years, he assumed progressively more responsible management positions, leading to vice president and general manager of the global distribution sector.
From 2000 to 2003, Mr. Wolfe served as executive vice president of Covansys, a global consulting and technology services company headquartered in Michigan. In 2003, he joined Novell, a leading provider of infrastructure software. As President of the Americas and as a member of the senior management team for the organization, he was responsible for more than 3,000 employees and partner firms in the United States, Canada and Latin America. Wolfe was influential in developing the company's overall strategy, product development, mergers and acquisitions, marketing investments and community service initiatives.
Mr. Wolfe grew up in Columbia, and is an alumnus of the University of Missouri-Columbia, graduating in 1980 with a BS from the Trulaske College of Business. In 1995, he graduated from Harvard Business School's Advanced Management Program.
Mr. Wolfe serves on several academic and civic boards and is married to Molly Wolfe. They have a daughter, Madison, and a son, Tyler.
Reviewed 2014-10-10.