Jan. 15, 2015 - Briefing on Comprehensive Retention Initiative
Feb. 7, 2014 - OEI introduces new Accounts Payable Shared Services website.
---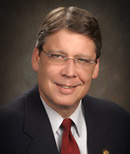 Gary Allen, OEI Lead
321b University Hall
Columbia, MO 65211
Telephone: (573) 882-9200
Email: AllenGK@umsystem.edu
Bio
Operational Excellence Initiative
The University of Missouri has been providing teaching, research and service in Columbia since 1839. By 1870, it had become a two campus system encompassing the unique strengths of the School of Mines and Metallurgy in Rolla. By 1963, the University had expanded its service to the state by adding locations at St. Louis and Kansas City. Since that time, these four unique locations have developed and adopted business processes and technology in very individual ways. Today, we have four strong campuses using a variety of business processes and technologies for our administrative tasks. In an age where technology is finally capable of serving the needs of a broad audience, the Operational Excellence Initiative (OEI) is dedicated to aligning the core business processes of our campuses, finding and implementing technology that supports a streamlined process, and reducing the complexity and costs of supporting four, unique campuses.
Using the foundational principles of shared services, the OEI has helped the University of Missouri Enterprise seek administrative excellence in order to allow faculty and staff at our four campuses to focus on the goals of teaching, research, and service through their unique and strong traditions of excellence.