Governance
We have completed a comprehensive review of our enterprise research planning (ERP, aka PeopleSoft) administrative applications. A specific recommendation documented and discussed during our review was a need to streamline and simplify our governance processes in a way that clearly and consistently identifies individuals/offices/councils responsible for strategic decisions related to these ERP administrative systems.
At the July 2015 General Officer's meeting, the Chancellors, Provosts, Chief Financial Officers, and President's staff agreed to a governance model that continues to leverage our existing oversight groups in all of the major pillars for which the ERP is essential to function, namely Human Resources, Finance, IT, and Student Administration. Each of these functional groups will forward recommendations for actions/projects within their scope of responsibility to the established groups representing each of those pillars, namely Human Resource Council (HRC), Administrative Management Council (AMC), and the UM IT Management Council (CIOs). The oversight of the Student Administrative Systems will be the responsibility of the UM Academic Officers, as well as Vice Chancellors for Student Affairs on two of the campuses (UMKC and UMSL), as currently represented by the Academic and Student Administrative Systems Oversight Committee (ASASOC).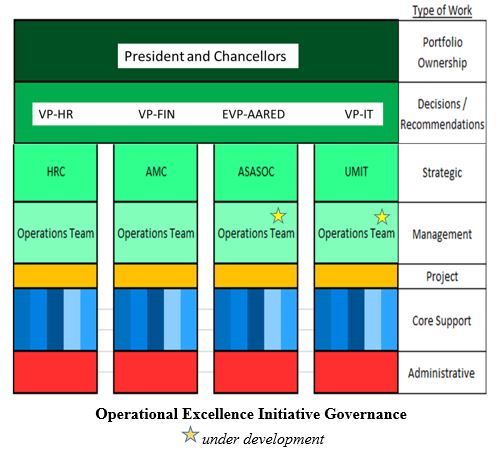 All of these groups will maintain their existing bi-directional communications with the Intercampus Faculty and Staff Councils. Any required adjustments to the representational membership of any of these governance groups will be made as neccesary. Recommendations or proposals from each group will be forwarded to the Operational Vice Presidents (HR, Finance, Academic Affairs, IT) for consideration. The Vice Presidents will then forward consensus recommendations to the President and the Chancellors for final decisions and action.
Reviewed 2015-11-18.