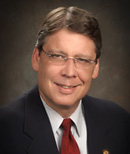 Gary K. Allen
Vice President for Information Technology and Chief Information Officer
215C University Hall
Columbia, MO 65211
(573) 882-9200
Email
News and Updates
Information Technology
Responsibilities Of Office
The Office of Information Technology is responsible for providing leadership in the planning and implementation of information technologies across the University of Missouri System. The Division of IT also provides a set of information technology services to higher education, K–12 institutions, libraries and state government through MOREnet operations. The vice president of information technology also serves as the MU chief information officer.
Information technology responsibilities
Voice, video and data networks
Offices, laboratories, classrooms, residence halls, etc.
Desktop technology – hardware, software and training
Students, faculty and staff
Application, database, and network servers and storage
Production operations, and business continuity and disaster recovery processes
Large software applications
Email, library, electronic journals and databases, and enterprisewide administrative systems (student, finance and accounting, human resources, alumni development)
Technology-dependent research and instructional applications
Coordination of shared services initiatives
Information technology departments
Telecommunications and security
IT finance and administration
Customer service and support
Enterprise application services
Systems and operations
Research computing and networking
Special projects, project management, marketing and communications
MOREnet
Reviewed 2032-06-07.