Generally speaking, what is a NON-PO voucher?
NON-PO Vouchers are a method within the University of Missouri system to pay suppliers electronically or by check when Show-Me-Shop (SMS), One Card (PCard), Requisition/PO Voucher, Travel & Expense (T&E) or any other payment methods are not appropriate.  NON-PO Vouchers are similar to PO-Vouchers in that they tie together the supplier, invoice date, invoice amount, line items, and accounting information for individual supplier invoices.  NON-PO Vouchers differ from PO Vouchers as there is no need for a purchase order number to be created or used to complete the transaction.
Within the University of Missouri System, when should I use a NON-PO voucher?
Selecting the correct payment type involves several factors.  Please click HERE for a detailed description of which method to use.  In general, A Non-PO Voucher should only be used when needed products/services:
Are NOT available through the Show-Me-Shop, AND
CANNOT be purchased using a One Card, AND
Are NOT appropriately paid with a Purchase Order (PO), AND
Are NOT reimbursable through Travel and Expense (T&E), AND
Are NOT reimbursable through Payroll
In addition to the above criteria, some expenses requiring processing through a NON-PO Voucher require additional steps such as:
Expenses which require a CONTRACT, AGREEMENT, or TERMS and CONDITIONS, OR
Expenses which REOCCUR on a regular basis such as weekly, biweekly, semi-monthly, monthly, quarterly, semi-annually, annually, bi-annually, or other regular interval, OR
Expenses to pay a SUBJECT PAYMENT for research participation, OR
Expenses to pay a NON-EMPLOYEE's travel.
Within the University of Missouri System, how does the NON-PO voucher process work?
First, a staff person from the department incurring the expense must use PeopleSoft Production to access the Payment Request Center and create a Payment Request. Please note:  When processing payments to Non-Residents, a NON-PO can only be used to process payment for reimbursements or service occurring outside of the US.  For additional information regarding processing payments for nonresident service, click here for more information.
 
The Payment Request is made up of four tabs or pages of information


Summary Information Page: Contains the details of the payment request including receipts/invoices/ contracts under the attachment link
Supplier Information Page: Contains information about the Supplier
Invoice Detail Page: Contains the individual Invoice Lines of the Request
Review and Submit Page: Summary page where Request details can be reviewed and then submitted

The Payment Request must contain an attached invoice, contract, or other source document or may reference the contract number or voucher number where documentation was originally attached, if applicable.  Source document SHOULD NOT include confidential information (SSN, credit card information, IRB#, etc). All confidential information must be redacted prior to attaching.  NOTE: If you must pay the same supplier the same amount each month, please click

HERE

to review Non-PO Voucher  - Recurring Vouchers training materials, as this might be a better option.
 
Once the Request has been submitted, the Requests Section will display a status of Approved. A process will then convert the Payment Request to a Non-PO Voucher, change its request status to Vouchered, and it enters into the approval workflow.
 
Approval workflow is the routing of a voucher electronically based on the chartfield expenses are charged to. Levels include:


Project Manager: If grant chartfield used, this is the Principal Investigator identified in the Grants Module.
Fiscal Reviewer: These are the Approvers at the DeptNode, SubDeptNode and DeptID level in FIN Authorization.
Accounting Office: These are the Accounts Payable Shared Service approvers.
 

The Accounts Payable Shared Services Center approver will verify all information and either release the NON-PO Voucher for payment in PeopleSoft Production or send it back to the department with questions and requests for further clarification.
 
Once the NON-PO Voucher has been released for payment in PeopleSoft Production, payment will be processed as either a check on the first Tuesday following release, an ACH on the night following release, or an "Express Check" on the same day as release if an appropriate business need has been communicated within the voucher and sufficient notice has been provided for processing.
 
Payment is made to the supplier!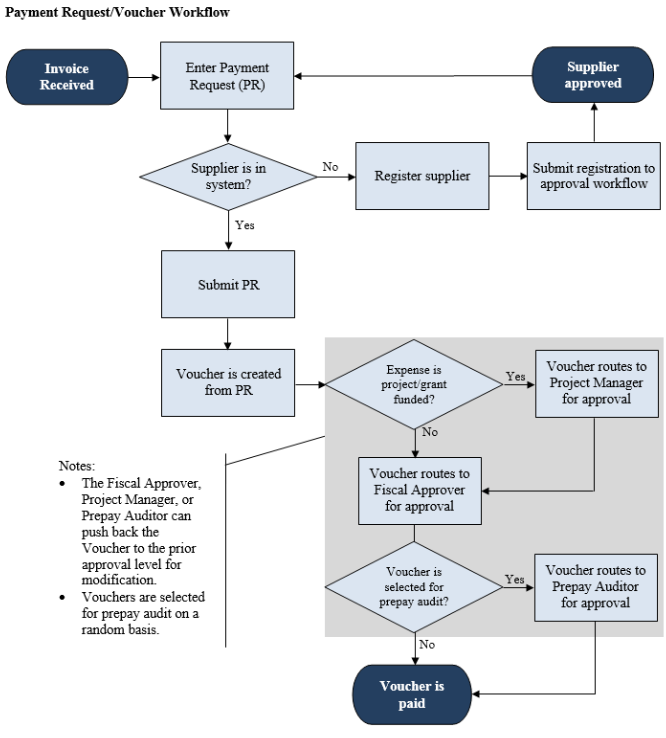 Reviewed 2022-09-02