Generally speaking, what is T&E? 
Within the University of Missouri System, T&E is an electronic transaction documentation tool using the Peoplesoft platform.  It is THE tool for faculty and staff receiving a university payroll check to document authorization of travel, obtain a cash advance for travel, and be reimbursed for university business expenses incurred and paid for personally.  Employees should determine the most cost effective purchasing method for specific procurement needs in accordance with University Procurement Guidelines.
Within the University of Missouri System, when should I use T&E?
T&E should be used for documenting authorization of travel
T&E should be used for obtaining a cash advance for:
T&E should be used for reimbursement of: 

Business Meals
Business Mileage
Non-Overnight Business Travel
Overnight Business travel
Foreign Business travel
Approved Moving Expenses
Non-Travel Business Expenses
Within the University of Missouri System, how does the T&E System work?
 Travel occurs; expenses are incurred, and expenses are paid for personally, by university employee.    
 Either the university employee or their travel delegate creates an expense report using T&E. (See topic in T&E Cardholder/Traveler Training Guide.)
The expense report creator attaches all receipts and necessary documents to the expense report in accordance with Business Policies.
The expense report creator submits the expense report and it enters into the approval workflow.
Approval workflow is the routing of an expense report electronically based on the chartfield expenses are charged to. Levels include:


Project Manager: If grant chartfield used, this is the Principal Investigator identified in the Grants Module.
Fiscal Reviewer: These are the Approvers at the DeptNode, SubDeptNode and DeptID level in FIN Authorization.
Accounting Office: These are the Accounts Payable Shared Service approvers aka PrePay Auditors.

The Accounts Payable Shared Services Center approver(s) will verify all information and either release the expense report for payment in PeopleSoft Production or send it back to the department with questions and requests for further clarification.
Once the expense report has been approved by all required approvers, the expense report is paid.
All expense reports are reimbursed to employees by ACH, their payment will be wired on the night the expense report has been approved. The bank account they have selected to receive their university paycheck is set up as the default for this, however; the employee can change this information if they desire in their T&E profile under "user preferences".
Expense Report Workflow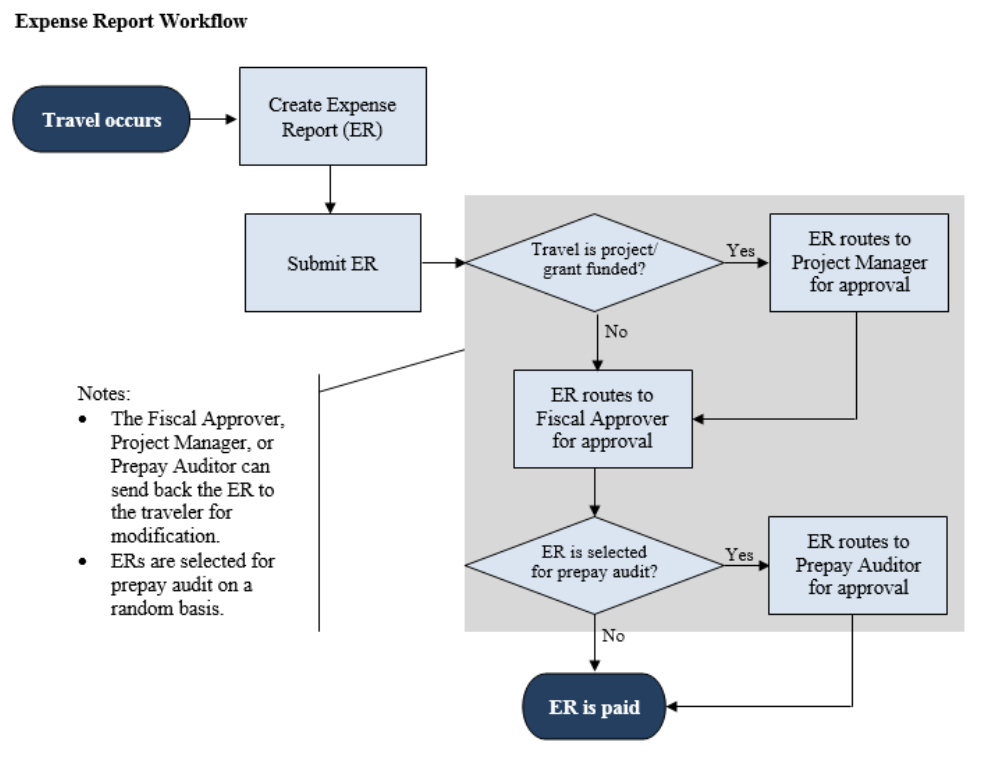 Reviewed 2021-09-15