One Card Program
One Card Program
The Commercial Card Redesign Project is an administrative streamlining endeavor that encompasses several phases and smaller projects. The project goal is to redesign the commercial card program at the University of Missouri System by moving the fleet cards to the WEX system, transitioning to a one card platform for travel and procurement cards, and utilizing the Peoplesoft T&E module for processing and reconciling credit card transactions.
The Objectives and Deliverables of the Project are as Follows:
Move the JP Morgan Fleet Card Program to the WEX Program
Move to a One Card program. The system is migrating from separate travel and purchasing cards to an integrated One Card program, administered by the current card supplier, JPMorgan. This program will give us the ability to have cards with options for purchasing only, travel only or a combination of both.
Move reconciliation of One Card transactions to PeopleSoft T&E.
Key Benefits
The One Card program benefits both Cardholders and the University with enhanced cardholder conveniences, additional security features, administrative efficiencies, and improved card and revenue management opportunities. Detailed benefits are listed here.
One Card Communications
One Card communication is being provided in several formats such as Mass eMail to all Faculty and Staff and to individual cardholder communication within divisions and departments.

Timeline and Milestones
The one Card Project is on track to meet the goal of having all cards converted by February 28, 2017 utilizing a deployment wave approach. Cardholders will be slotted into a wave based on their home department and division and will be notified by the division representative when that will occur and what will be required for the cardholder.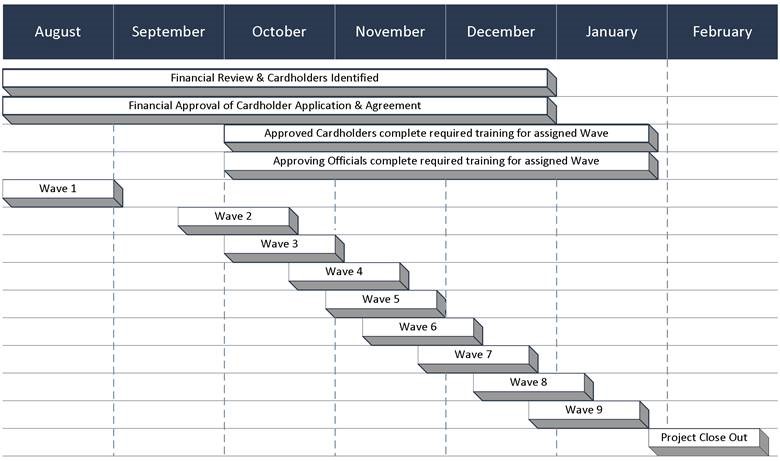 Training
Online training requirements for One Card Cardholders will be determined by the type of card they currently have and compared to the card controls on their new One Cards. Refer to the training table below to learn what training will be needed before receiving your new One Card.

Approving Officials and Editors will need to complete both training types if they will continue to serve in those roles.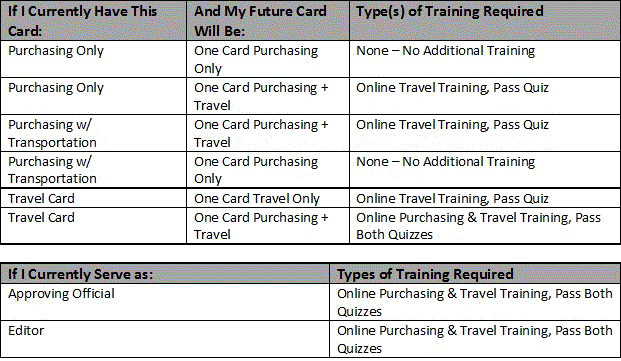 Note: If you are an Approving Official or Editor AND you are or will be a One Card Cardholder, you will only need to complete training once.
One Card Policies & Procedures
University Policies & Procedures Related to Travel
One Card Project Process Flow
The process flow depicted in the link below represents the steps involved in the University's transition to the One Card Program.
Process Flow
Frequently Asked Questions
Reviewed 2017-03-15.
Finance Support Center
MU Health Care:
884-1234
Missouri S&T Campus:
341-4266 or 877-752-1117 (after hrs)
UMKC Campus:
235-1371
UMSL Campus:
516-5366
UMSYS, UOEXT, MU Campuses:
882-3201
Toll Free All Campuses:
877-752-3334
Finance Support Center may be unavailable Mondays from 2:30-3:30pm for staff meeting.