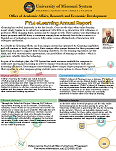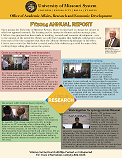 Best Practices & FAQs
News and Updates
Academic Affairs
Responsibilities Of Office
The mission of the Office of Academic Affairs is to serve as a catalyst for change that promotes quality and access to the university's academic programs. This mission can be achieved by providing leadership in the improvement of teaching and learning in collaboration with the Office of Human Resources, supporting research and scholarship, and promoting cooperative initiatives that enable the campuses to accomplish their goals.
Purpose & Functions
Dynamic, competitive, forward-thinking statewide academic leadership
A primary role of the UM System academic affairs office is to analyze major trends in the environment that have an impact on higher education nationally and regionally. Anticipating and understanding national and global trends, demographic projections, public attitudes about higher education, and the implications of technology will give the university a competitive advantage. Academic affairs serves as the point of contact for the UM System office on critical statewide academic issues through advocacy, issues management, collaboration and accountability efforts.
Leveraging UM strengths and opportunities across campuses by promoting collaboration, cooperation and best practices
Another role of the system's academic affairs office is to serve as the liaison with campus leadership to maximize quality teaching and research and enhance the efficiency and effectiveness of academic programs. This is achieved by benchmarking research and enhancing scholarly productivity against a competitive cohort of schools. When appropriate, this also means building consensus on broad policy issues and creating a sense of common vision for the four campuses. Cooperative degree programs maximize campus assets across the system and increase student opportunity.
Reviewing new programs for quality, viability and marketability ensures the programs meet campus strategic goals and have a reasonable chance of succeeding when launched. Promoting campus efforts in international programs are strengthened through collaboration and strategic coordination (e.g. South Africa Program). A unified UM engagement in P-20 pipeline efforts leverages university resources to address a critical statewide and national need. Similarly, the University of Missouri System's e-learning initiative requires centralized leadership to leverage the collective resources of the four campuses. Lastly, finding a systemwide solution for common problems and modifying the UM Collected Rules ensures that larger issues are addressed and a single policy is developed across all four campuses (e.g. non-tenure track faculty; faculty grievances, etc.)
Strategic academic leadership—fostering faculty and student success
This includes setting the direction for large-scale academic issues such as student access, success and affordability; faculty recruitment and retention; fostering faculty scholarly productivity in research and teaching; and creating an environment and culture that promotes creativity, innovation, and scholarly excellence—for students and for faculty. The office draws on institutional research, which allows the university to address systemwide issues such as faculty performance, student retention, coherent financial aid and tuition policies, campus accountability measures from a "benchmarked" perspective and contextual analysis that helps the university tell its story to the public. The office also collaborates with HR to address faculty personnel issues and promote close working relationships with campus provosts' offices (e.g. leadership development programs, new academic talent management efforts.) In addition, system academic affairs engages the Intercampus Faculty Council in its role in shared governance to promote coordinated efforts and allow the faculty to address concerns and take action on policy matters when appropriate.
Reviewed 2017-09-29.