Intercampus Course Sharing
Call for Proposals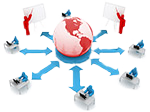 A new round of funding is available for faculty interested in intercampus course sharing. Submit a draft proposal to an Instructional Designer in your Educational Technology Office.
Information for Faculty
The course sharing program enables faculty to reach students from any University within the UM System by allowing the students to enroll in a course using their regular home campus registration process. Course sharing offers many benefits to faculty and students. For faculty it offers 1) the opportunity to collaborate with faculty from other universities within the UM System, 2) faculty development around course development and design and 3) compensation for the time it takes to develop the course or other resources to allow for the best content delivery. In order to participate one faculty member will complete the proposal(s) for the course(s) they wish to share with other UM Universities.
---
Spring 2019 RFP
Submission Schedule and Forms
Proposals open for submission NOW

Word template to work in before submitting - this is especially encouraged if proposing courses to be able to copy and paste appropriate information

Best Practices Webinar - New webinar dates coming soon!


March 8: Proposals Due to Instructional Designers
March 8-April 3: Faculty will have a two-week period to work with Instructional Designers and develop a final version of their proposal.
On or before March 22 a member of the Instructional Design staff will submit the completed proposal to the Provost Office for review.
The Provost Office will have one week in which to recommend proposals for final committee approval.
Final committee approval and award notification will occur toward the later part of the semester.
Instructional Design staff
Faculty Resources
Information for Students
Reviewed 2019-06-05.