Intercampus Course Sharing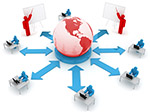 CALL FOR PROPOSALS: New round of funding available for faculty interested in intercampus course sharing
Fall 2016 RFP
Submission Schedule & Forms
---
The Intercampus Course Sharing initiative was designed to encourage the sharing of courses among the four UM System campuses to increase options for students, provide opportunities for faculty development leaves, or even expand departmental offerings. Through the initiative courses can be delivered via conferencing software, as a blended or hybrid course, as a fully online class, or through other similar methods.
Information for faculty
Faculty Resources
Information for students
Fall 2016 List of shared courses avaible on the student's home campus
Discipline
Campus of Distance Student
Subject
Catalog
Description
Campus of Lead Instructor
Lead Instructor
Instructor of Record
(on Student's Campus)
Civil Engineering
MU
CIV ENG
4500
Introduction to Construction Management
S&T
Showalter, William
Inniss, Enos
Computer Science
UMSL
COMP SCI
5700
Computer Systems: Introduction to High Performance Computer Architecture
S&T
Hurson, Ali
Bhatia, Sanjiv
Electrical Engineering
EL ENG
Classical Optics
S&T
Yamilov, Alexey
Gerontology
GERON
Aging in America: Cnpt & Contr
UMSL
Labor Studies
UMKC
ECON
340
Collective Bargaining
UMSL
Giljum, Donald & Russell, Robert
Labor Studies
UMSL
POLI SCI
3890
Labor in the Global Political Economy
UMKC
Ancel, Judith
Language & Global Education
MU
ELPA
9407
Seminar in Educational Policy: Historical and Cultural Perspectives on Global Issues
UMSL
Cohen, Deborah
Dorner, Lisa
Nursing
UMSL
NURSING
7212
Biostatistics II
MU
Deroche, Chelsea
Records, Kathryn
Nursing
UMSL
NURSING
7490
Design & Methods
MU
Phillips, Lorraine
Hseuh, Kuei-Hsiang
Nursing
UMSL
NURSING
7529
Spec Topics in Qualitative System Reviews
MU
Finfgeld-Connett, Deborah
Records, Kathryn
Philosophy (Ethics)
UMSL
PHILOS
Introduction to Ethics
S&T
Finch, Jonathan A.
Philosophy (Ethics)
S&T
PHILOS
4345
Philosophy of Science
UMSL
Black, Andrew
Finch, Jonathan
Physics
UMSL
PHYSICS
Modern Optics
S&T
Yamilov, Alexey
Physics (Quantum Mech)
UMSL
PHYSICS
Quantum Mechanics
S&T
Parris, Paul
Soc./Hist. of Technology
UMSL
ANTHRO/SOC
2192/3291
Current Issues in Sociology:
Architecture, Technology and Society, 1750 to present.
S&T
Schramm, Jeff
Keel, Robert
Social Work
MU
SOCWK
8220
Integrated Health Policy
UMSL
Porterfield, Shirley
Social Work
UMSL
SOCWK
6444
Advanced Social Work Practice in Integrated Health Care
MU
Cary, Suzanne
Social Work
UMSL
SOC WK
6900
Social Policy and Mil Veterans: Mil Cultures and Helping Professions
MU
Lewis, Alexandria
Social Work
MU
SOCWK
7340
Topics in Social Work: Social Policy & Military Family
UMSL
Craig, James Richard
Tech. Writing
S&T
ENGLISH
3001
Special Topics: Advanced Business and Technical Writing: Publishing
UMSL
Allison, Jeanne
Malone,Ed A.
Tech. Writing
S&T
ENGLISH
3560
Technical Writing
UMSL
Klein, William
Tech. Writing
UMSL
ENGLISH
4160
Special Topics In Writing: Usability Studies
S&T
Tech. Writing
S&T
TCH COM
3570
Writing in the Sciences
UMSL
Klein, William
Reviewed 2016-07-12.