Intercampus Course Sharing
Call for Proposals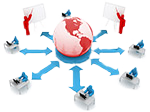 A new round of funding is available for faculty interested in intercampus course sharing. Submit a draft proposal to an Instructional Designer in your Educational Technology Office.
---
Fall 2018 RFP
Submission schedule and Forms
July 31 - Proposals open for submission

Word template to work in before submitting - this is especially encouraged if proposing courses to be able to copy and paste appropriate information

November 30- Best Practices Webinar


September 26: Proposal due date.
September 26- October 12: Faculty will have a two-week period to work with Instructional Designers and develop a final version of their proposal.
On or before the end of the two-week review period, a member of the Instructional Design staff will submit the completed proposal to the Provost Office for review.
The Provost Office will have one week in which to recommend proposals for final committee approval.
Final committee approval and award notification will occur toward the later part of the semester.
Instructional Design staff
Faculty resources
Information for faculty
The Intercampus Course Sharing initiative was designed to encourage the sharing of courses among the four Universities within the UM System to increase options for students, provide opportunities for faculty development, or even expand departmental offerings. Through the initiative, courses can be delivered via conferencing software, as a blended or hybrid course, as a fully online class or through other similar methods.
Information for students
Reviewed 2018-12-12.