Intercampus Course Sharing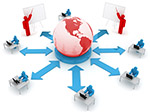 CALL FOR PROPOSALS: New round of funding available for faculty interested in intercampus course sharing
Fall 2017 RFP
Submission Schedule & Forms
---

​Note: Using the guidelines and forms below under Faculty Resources; discussions, feedback, and agreed upon implementation with the Instructional Design team are required before your proposal can be submitted to the Academic Affairs Office.

Faculty will have two weeks from the date listed above to work with Instructional Designers and develop a final version of their proposal.

On or before the end of the two week review period, a member of the Instructional Design staff will submit the completed proposal to the Provost Office for review.

The Provost Office will have one week in which to recommend proposals for final committee approval.

Final committee approval and award notification will occur towards the later part of the semester.
---
Faculty Resources
---
The Intercampus Course Sharing initiative was designed to encourage the sharing of courses among the four UM System campuses to increase options for students, provide opportunities for faculty development leaves, or even expand departmental offerings. Through the initiative courses can be delivered via conferencing software, as a blended or hybrid course, as a fully online class, or through other similar methods.
Information for faculty
Information for students
TENATIVE

Fall 2017 List of shared courses available on the student's home campus
Discipline
Campus of Distance Student
Subject
Catalog
Course Title
Campus of Lead Instructor
Instructor of Record (on Student's Campus)
Architectural Studies/History
S&T
HIST
4001
Guiding Dsgn Hist Preservation
Schramm, Jeffrey
Civil Engineering
S&T
CV ENG
5001
Transportation Safety
Attributes
Sun, Carlos
Civil Engineering
MU
CV ENG
4500
Research Masters Project in Computer Science
Xu, Dong
Gerontology
UMKC
GERN
410R
Aging In Contemporary Society
McDowd, Joan
Gerontology
UMSL
GERN
4050
Narrative Experiences in Aging & Health Care
Meuser, Thomas
Labor Studies
UMKC
ECON/
HIST
[404RR/
5504RR]/
366RR
American Labor History
Ray, Gerda
Labor Studies
UMKC
POL SCI
370/
5580B
Labor Law / Government And Politics Seminar

Woodson, Benjamin

Language & Global Education
MU
ELPA
9407
Seminar in Educational Policy
Latina/Latino Studies
UMKC
LLS
300
Special Topics in Latina/Latino Studies
Torres, Theresa
Nursing
MU
NURS
9120
Philosophical and Theoretical Basis for Research
Wipke Tevis, Deidre
Nursing
MU
NURS
9410
Nursing
MU/UMKC
NURS
8002/
Nursing
UMSL
NURS
7212
Philosophy (Ethics)
UMSL

PHILOS

1130
Philosophy (Ethics)
S&T

PHILOS

4345
Philosophy Of Science
Finke, Darin
Physics (Quantum Mech)
UMSL
PHYSICS
6463
Quantum Mechanics II
Majzoub, Eric
Political Science
UMKC
POL SCI
408
Judicial Politics
Woodson, Benjamin;
Graham, Barbara
Social Work
UMSL

SOC WK

6444
Integrated Health Care
Johnson, Sharon
Social Work
UMSL

SOC WK

6900
Tech. Writing
S&T

ENGL

3560
Tech. Writing
S&T
TCH COM

3570
Writing in the Sciences
Tech. Writing
UMSL

ENGL

4160
Special Topics in Writing

Klein, William
Reviewed 2017-10-02.