Bloch Venture Hub provides array of services for start-ups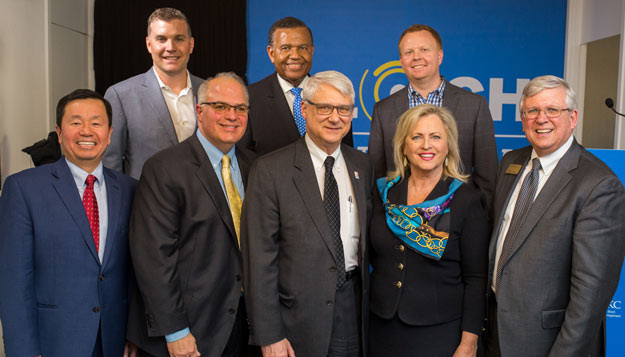 Pictured from left to right: UM System President Mun Choi, Matt Condon, Jeff Hornsby, UMKC Chancellor Leo Morton, Bob Regnier, Mary O'Connor, Nathan Kurtz and David Donnelly.
Kansas City has a new center for entrepreneurship support services with the opening of the Bloch Venture Hub, a community resource for entrepreneurs at multiple pre-launch stages.
The Bloch Venture Hub is powered by the Country Club Bank and the Regnier Institute for Entrepreneurship and Innovation at the University of Missouri-Kansas City Henry W. Bloch School of Management.
At an invitation-only event March 23, UMKC leaders and nearly 60 community officials celebrated the Bloch Venture Hub before the official opening day of March 24. Dignitaries included Greater Kansas City Chamber of Commerce "Big Five" Champion Matt Condon, Country Club Bank Executive Vice President of Brand Management Mary O'Connor, UM System President Mun Choi, UMKC Chancellor Leo E. Morton, Bloch School Dean David Donnelly, Regnier Family Foundation's Bob Regnier and Ewing Marion Kauffman Foundation senior program officer in Entrepreneurship Nathan Kurtz.
"This is a major step forward in our mission to promote entrepreneurship in Kansas City," said Jeff Hornsby, Ph.D., director of the Regnier Institute and chair of the Department of Entrepreneurship at the Bloch School. "As Kansas City's university, we have always been dedicated to supporting venture creation in our community, but now we have a central location for people to easily access our knowledge and resources."
O'Connor also expressed her excitement on behalf of Country Club Bank. "We are delighted to join forces with UMKC Bloch School in providing the best of class in resources for the pursuit of entrepreneurial excellence. It is our privilege as a privately and locally owned bank to continue that legacy in encouraging and developing the financial well-being of Kansas City's next generation of business leaders."
Learn more about the grand opening of the Bloch Venture Hub in UMKC Today.
Share This
About this Story
Campus: UMKC
Key words: Innovation, KC Campus,
County: Jackson