Undergraduate Research Day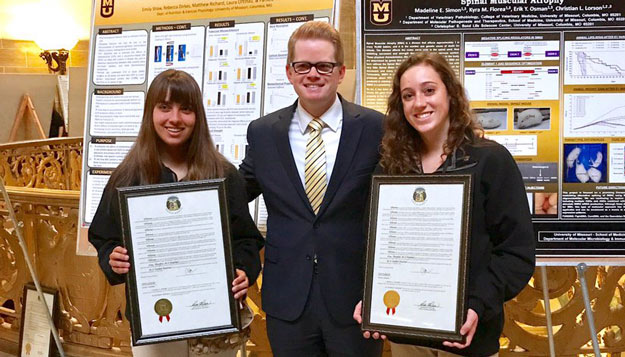 (L to R) MU students Emily Shaw, Senator Caleb Rowden and Madeline Simon.
On April 4, undergraduate students from all four campuses gathered at the State Capitol to present their research. A total of 42 students, including 21 from MU, 12 from UMKC, seven from Missouri S&T and two from UMSL, set up displays in the third-floor rotunda and invited legislators and citizens to learn more. Click the school name above for a list of all the presenters.
"As the state's only public research university, our students are provided unique opportunities to work alongside our talented faculty to conduct cutting-edge and groundbreaking research on our four campuses every day," UM System President Mun Choi said. "These experiences, which range from science to medicine to the humanities, help to prepare our students for graduate and professional studies at prominent universities as well as careers in leading industries."
Topics included "The Effects of Detonation Wave Collision on Rock Throw" by Patrick Cahill of Missouri S&T, and "Does Capital Punishment have a Deterrent Effect?" by James Monroe Gamble of MU.
"Student engagement in research projects with faculty members at each of our campuses is a staple of the undergraduate academic experience and enhances student outcomes," said Bob Schwartz, interim UM System vice president for academic affairs, research and economic development. "The experience exposes students to the wonders and possibilities of research and innovation, and helps develop them as future scientists and entrepreneurs whose discoveries could result in new technologies and businesses, and improve the quality of life for Missourians."
Share This
About this Story
Campus: System
Key words: KC Campus, MU Campus, Rolla Campus, St. Louis Campus, UM System,