Division of IT raises money to fight hunger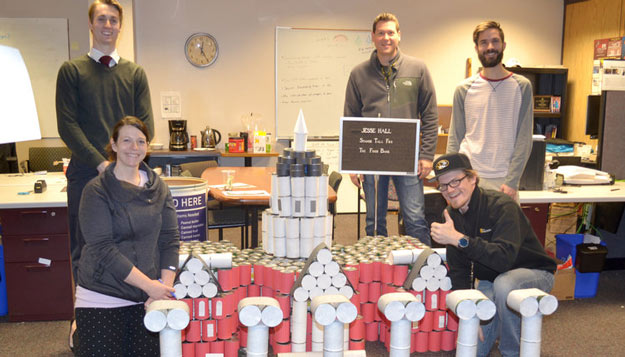 Employees of the University of Missouri's Division of Information Technology raised funds and collected food for The Food Bank of Central Missouri in their second "We Can DoIT" construction and fundraising challenge. Participating teams were tasked with designing and creating a structure using canned food and other non-perishable goods. The results were impressive. Not only were interesting designs created, but more than 4,000 food items and $2,200 in cash was donated.
Employees of The Food Bank judged the competition, awarding the top design to Jesse Hall Stands Tall for The Food Bank, a replica of Jesse Hall made from cans of food. The team generating the most donations created Mr. Peanut, who proudly declared, "I'm nuts for the Buddy Pack program." Other teams folded origami palm tree leaves and birds out of their cash donations and created a replica robot.
"This is a really fun way to collect food and funds for those in need," said Kimberly Kent, special events coordinator at The Food Bank. "This year's structures were really amazing. We appreciate the Department of IT at Mizzou for all of the hard work they put into building the structures."
Thanks to all of our DoIT employees who donated time, effort and goods to the The Food Bank. Click here to see all of the structures on Flickr, and here for The Food Bank rendition.
Share This
About this Story
Campus: System
Key words: Technology, UM System,