Wound care technology invented at Missouri S&T hits marketplace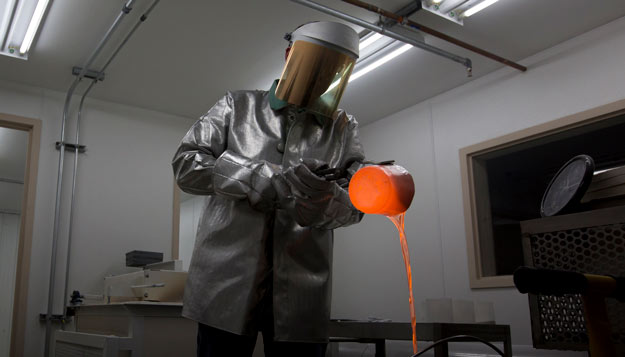 Photo by Sam O'Keefe.
A glass-based wound care product that emerged from research by a doctoral student at Missouri University of Science and Technology has been approved by the U.S. Food and Drug Administration for human use and is now available on the commercial market.
Steve Jung laid the groundwork for the Mirragen Advanced Wound Matrix while earning a master's degree in ceramic engineering and a Ph.D. in materials science and engineering at Missouri S&T. Jung is now chief technology officer at Mo-Sci Corp., a Rolla specialty glass manufacturer that continued the product's development in collaboration with ETS Wound Care, also of Rolla.
"The recent FDA approval is a significant milestone," says Chad Lewis, president and CEO of ETS Wound Care, a subsidiary of Engineered Tissue Solutions. "We're pioneering an entirely new therapeutic option for wound care."
The Mirragen Advanced Wound Matrix is a wound dressing solely composed of microscopic glass fibers and particles that are absorbed by the body. Both flexible and moldable, the wound dressing can be easily customized, while its fiber structure allows Mirragen to absorb fluid from the wound site and facilitate healing.
Keith Strassner, director of the university's office of technology transfer and economic development, calls the new wound care product a successful example of the real-world benefits of academic research.
"The Mirragen story perfectly illustrates how federal support of university research can translate into broader economic and social benefits," he says, noting the early support of Jung's work by a U.S. Department of Defense grant. "Then, we were able to create a strong partnership with Mo-Sci and transfer the technology to allow the company to make the necessary investments in its commercialization and the regulatory approval process."
Read the original story on the Missouri S&T website.
Share This
About this Story
Campus: Missouri S&T
Key words: Rolla Campus, Technology,
County: Phelps