Unlike any other in the nation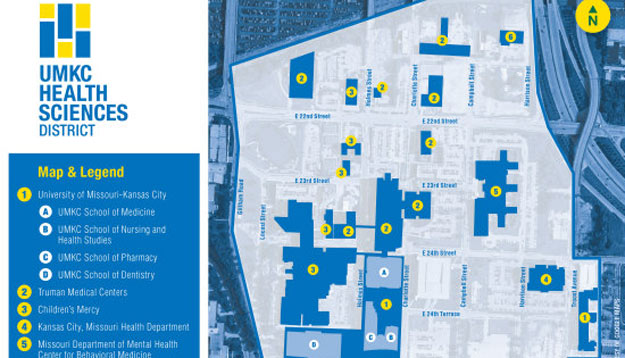 With a collaboration unlike any other in the nation, many of Kansas City's leading health-care institutions recently announced that they have agreed to align more closely to form the UMKC Health Sciences District. The newly created district combines the unique expertise and services of 10 partners to spur research and community outreach in service of the Kansas City region and beyond.
The UMKC Health Sciences District includes:
The University of Missouri-Kansas City (UMKC) and its
School of Medicine
School of Nursing and Health Studies
School of Pharmacy
School of Dentistry
Truman Medical Centers (TMC)
Children's Mercy (CM)
Kansas City, Missouri Health Department
Missouri Department of Mental Health Center for Behavioral Medicine
Jackson County Medical Examiner
There are other health districts in the U.S., but the UMKC Health Sciences District is unlike any other in the nation.
It is one of 18 areas in the country that have public schools of medicine, pharmacy, dentistry and nursing in one location along with a children's hospital and an adult, acute-care hospital. By including a health department, the medical examiner and a mental health center that brings together agencies of the city, county and state, the UMKC Health Sciences District is one of a kind.
Read more in UMKC Today.
Share This
About this Story