Mother and daughter graduate from UMSL together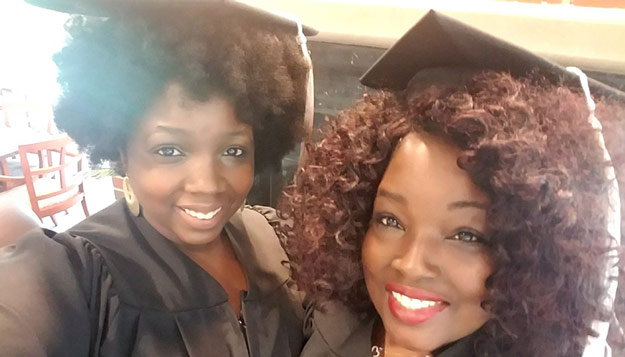 As a proud mother, Donna Vickers gladly stepped out of the spotlight during her own commencement weekend. Within 24 hours of each other, Donna and her daughter, Ashlie, reached the end of their undergraduate years at the University of Missouri–St. Louis surrounded by family.
"This is her time to shine," Donna said. "I will take a back seat any day to have my daughter walk across that stage. I don't mind the back seat at all."
While Donna may have placed herself second during the celebration, her own accomplishments are noteworthy and were equally celebrated by her three daughters and husband of 31 years, O'Larry Vickers.
The 49-year-old has spent much of her life supporting others backed by the strength of her family. Whether serving as a registered nurse, ordained minister or founder of a nonprofit organization, Donna is passionate about "bringing sunshine to the dark areas of people's lives."
To further her humanitarian efforts, Donna enrolled at UMSL in 2014 in pursuit of a BA in sociology with a minor in nonprofit management.
At age 30, Ashlie admittedly took time to find her own career motivation. Since graduating from high school, she bounced between a few different colleges but never truly found her focus. Fortunately, she formed a career with great opportunities prior to earning her bachelor's degree.
But after landing a job at PLZ Aeroscience, an aerosol manufacturer, Ashlie knew she needed to finish her undergraduate years to advance within the company. She enrolled in the College of Business Administration in the spring of 2014 and, for the first time in her higher-education career, found herself excited about what she would learn and felt committed to her original plan.
"I knew what I wanted this time," Ashlie said. "It wasn't like when I went to school 12 years ago, and you just go to school because that's what you have to do. I had a mission, and I was already looking past my bachelor's to a master's. For me to come back at a time when I was set in my career, it was 10 times easier than 12 years ago."
Although Ashlie wouldn't recommend for others to delay their degree, she notes there are benefits.
"I wouldn't tell somebody, 'wait until you're in your late 20s to go back to school,'" she said. "But there's a plus, your focus and commitment is different in a way that only helps you. If you're really lucky, like me, you can be there with your momma, which makes it better."
Read more about these amazing women in UMSL Daily.
Share This
About this Story
Campus: UMSL
Key words: St. Louis Campus,