UM Research Highlighted at Missouri State Fair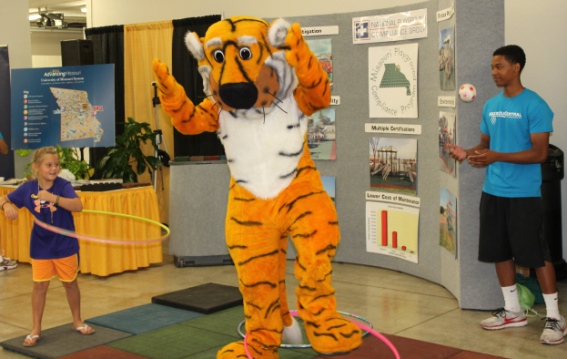 Truman attempts to Hula-hoop at the Missouri Playground Compliance Program booth.
Shibu Jose, director of the Center for Agroforestry at MU, shares information about a newly received $5.4 million grant from the U.S. Department of Energy to study which potential non-food biofuel crops grow best in marginal lands. Click here to learn more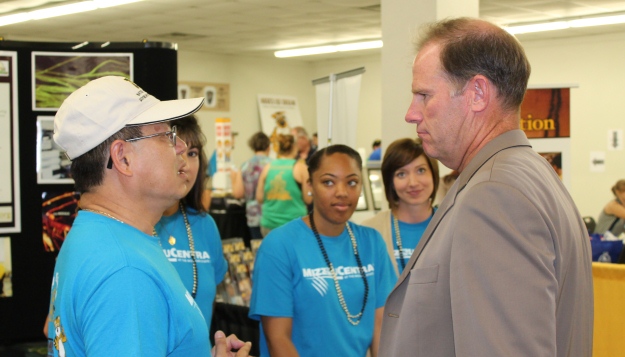 Henry Nguyen, Directorof the National Center for Soybean Biotechnology, shares his work on sequencing the DNA of commercially important soybean varieties. With such data, producers can breed new varieties that will increase yields under a variety of conditions.
UM System shares its academic programs and research activities with the citizens of Missouri.
As home to the Missouri State Fair, Sedalia, Mo., welcomes hundreds-of-thousands of visitors to its city each August. This year, Sedalia welcomed Tim Wolfe in his first official visit to the fair as president of the UM System.
"The fair has a long tradition of being Missouri's agricultural showcase," said Wolfe. "The UM System has been a part of that tradition as we work to connect with the citizens of Missouri and share the important research and academic programs that advance our state and increase the quality of life for all Missourians."
Mizzou Central, a 10,000 square-foot exhibition area located in the Mo-Ag Building, features interactive displays where fairgoers can visit with university faculty, staff, extension agents, students and even meet Truman.
Robert Sharp, MU professor of agronomy and plant sciences, was on hand to talk about his research on the affect of drought conditions on plants and crop productivity, and how new breeds of drought-tolerant plants can boost yields.
Sharp is part of a team that received a $1,558,125 Missouri Life Sciences Research Board grant to construct drought simulators designed to test the effects of water deficiency on crops.
"We have exciting research taking place to combat the affects of drought as evidenced by the work being conducted in our division of plant sciences," said Wolfe. "In addition to plant research, we also have interdisciplinary teams working to develop applications to help producers monitor and cope with heat stress in production animals."
University of Missouri Health Care staff were at Mizzou Central throughout the fair providing free resources such as skin cancer screenings, stroke prevention education and dietary information.
"I am excited to see so many of our faculty, staff and students at the fair sharing the impact that our four campuses, extension services and health care enterprise have on our state," said Wolfe.
Share This
About this Story
Campus: System
Key words: Agriculture, Health, MU Campus, Science, Teaching, UM System,
County: Pettis