Missouri Broadband Resource Rail
Missouri Broadband Resource Rail is a free web-based resource expected to be available publicly by July 2020. This resource will use SourceLink®, proven resource connector software, to encourage the creation of teams devoted to the expansion of broadband and adoption of broadband-based applications in business, agriculture, education, government services and healthcare.
The site will catalogue over 100 current research, community education and service projects related to broadband expansion and development of broadband-based applications involving UM System faculty and staff. It will host government, business and nonprofit resources related to broadband and its applications, as well. The Resource Rail also will feature UM System resources to help communities assess:
appropriate technologies to meet their broadband infrastructure needs
available financing and funding resources for broadband projects
strategies to educate the public on how to use broadband-based applications
The Resource Rail will connect with All Things Missouri, a web-based resource developed by the MU Center for Applied Research and Engagement Systems (CARES), with its databases of geocentric information about broadband access and census data about community education, employment, healthcare and other metrics.
Results and lessons learned from the community test-bed project in Bollinger County will also be made available through the Missouri Broadband Resource Rail so that they can be applied in other settings across the state.

With its rolling hills and pastoral vistas, ready access to Interstate 55 and proximity to the Ozarks and Mark Twain National Forest, Bollinger County would seem ideally situated to attract new families and businesses. Except for one thing: lack of access to high-speed broadband, the gateway to the internet and the online opportunities and connections that access brings. 
Like electricity a century ago, broadband is today's essential utility. Without it, communities cannot prosper and grow, said Becky Wigington, president of Bollinger County Chamber of Commerce. No matter the county's advantages — "affordable housing, affordable property, affordable commercial property, low taxes — we don't have internet service," she said. 
A bold new partnership through the University of Missouri System Broadband Initiative may help change that. Bollinger County has volunteered to be the first "testbed community" in a plan to expand broadband statewide.
A virtual video workshop on June 1, 2020, will bring together about 90 faculty and researchers from the four UM System campuses and MU Extension and community leaders from local government, business and non-profit sectors. Participants will map out the key resources and steps needed to develop a workable plan to expand affordable, reliable high speed internet service to all residents and businesses in the county. These lessons — to be shared in a public forum in July — will serve as a template for subsequent testbed partnership projects in other Missouri communities over the next 24 months.
Bollinger County was the ideal first testbed community, said Marc McCarty, chair of the UM System broadband leadership team. Not even four of five Bollinger County residents have access to high-speed broadband at any cost. A few local businesses, the library and school buildings provide the only reliable service and access. Bollinger County participants in the June 1 workshop plan to convene in the library, observing social distancing while using video conferencing tools.
Most important, MU Extension has laid much of the groundwork for building effective partnerships around broadband solutions. Richard Proffer, a MU Extension community economic development specialist in southeast Missouri, has been working with communities and counties in the region for nearly a decade to identify opportunities for building local prosperity. This existing community engagement framework complements broadband initiative objectives — harnessing the expertise of diverse stakeholders to identify common goals, realistic options and practical ways forward to workable solutions, said UM System Deputy Chief Engagement Office Alison Copeland.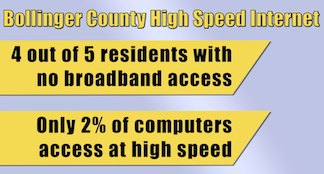 Bollinger County's statistics underline why Missouri ranks 41st lowest in the nation in high speed broadband access — a deterrent to statewide prosperity and growth. The broadband initiative aligns with the university's land-grant mission to respond to Missourians' greatest needs around economic opportunity, educational access and excellence and health and well-being, said UM System President Mun Choi. Last year, the UM System committed to encouraging the statewide buildout of reliable, highspeed internet infrastructure under the leadership of Marshall Stewart, UM System chief engagement officer and MU vice chancellor for extension and engagement.
"It would be the great equalizer," said Eva Dunn, Bollinger County Library director. "You can do anything you can do in a big major metropolitan area if you have the broadband capability."
Nearly a century ago, Missouri lacked reliable, affordable electrical service. The land-grant university faculty and researchers helped expand access to this key infrastructure need.
"This project is similar. It is our responsibility and privilege to partner with the counties and people of Missouri to ensure access to today's essential utility," Choi said. "The recent social-distancing required to fight the spread of [COVID-19] has thrown into sharp focus our need for broadband. Broadband based tools are essential to maintaining our connections."
Workshop facilitators are MU Extension faculty members Wayne Prewitt, west central region director; Sarah Denkler, southeast region Extension; and Kent Shannon, a field specialist in agricultural engineering who also is a member of the UM System broadband leadership team. Other team members who are facilitating are Lav Gupta, professor of mathematics and computer science at the University of Missouri-St. Louis; Casey Canfield, professor of engineering management and systems engineering at the Missouri University of Science and Technology; Tony Luppino, professor and director of entrepreneurship programs, UMKC School of Law; and Barbara Glesner Fines, dean, UMKC School of Law. UMKC Regnier Institute representative Bryan Boots, managing director for venture creation, is also assisting.
Trouble viewing the video in your browser? Click here to view video message on YouTube.
Reviewed 2020-05-29