New Kid-friendly Specialty Clinic Opens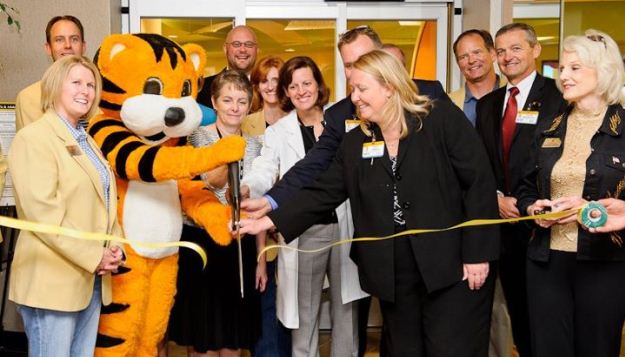 Representatives from the Columbia Chamber of Commerce and University of Missouri Health Care celebrated the clinic's opening with a ribbon-cutting ceremony Monday, Sept. 12, at Women's and Children's Hospital.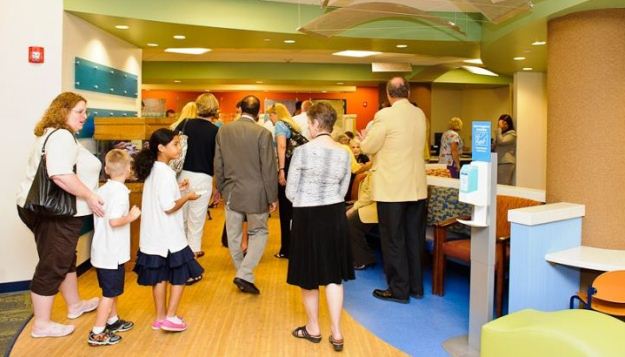 The specialty clinic at Children's Hospital officially opened to patients Tuesday, Sept. 13.
University of Missouri Children's Hospital continues its consolidation of pediatric services with the opening a new pediatric/adolescent specialty clinic at Women's and Children's Hospital in Columbia.
Children's Hospital's new specialty clinic more than doubles the size of the previous location in the University Physicians Medical Building. The clinic features 39 exam rooms and two dedicated telehealth rooms. In addition, the clinic will have blood draw services on site as well as a pulmonary function testing lab for respiratory therapy patients.
"Our new clinic location gives us plenty of room to grow," said Timothy Fete, M.D., medical director of Children's Hospital, chair of the MU School of Medicine's Department of Child Health and Children's Miracle Network Professor in Pediatrics. "We built this clinic to be modern and kid-friendly with all the conveniences parents enjoy. At the same time, we created an environment that our more than 35 pediatric providers will find ideal for caring for kids."
Specialists from nearly 20 areas including pulmonary medicine, nephrology, neurology, genetics, endocrinology and more will provide medical care in the clinic.
The clinic's location at Women's and Children's Hospital brings many conveniences to these specialists and the patients they see.
"If patients at our new location need radiology or other diagnostic services, they can now walk down the hall to Children's Hospital, rather than driving across town," said Melissa Lawson, M.D., adolescent medicine physician and medical director of the pediatric specialty clinic at MU Children's Hospital. "Similarly, if a physician working in the clinic is needed for an emergency consultation at the hospital, he or she can be at the patient's bedside in minutes."
The relocation of the specialty clinic continues MU Health Care's commitment to consolidate Children's Hospital services in one convenient location at Women's and Children's Hospital.
The hospital opened in Sept. 2010 as the first hospital in Missouri dedicated to the care of women and children. Children's Hospital features 43 private inpatient rooms, a 13-bed pediatric intensive care unit, a Level III neonatal intensive care unit, expanded playrooms and a child-friendly lobby to welcome kids and their parents.
Share This
About this Story