Contact: Austin Fitzgerald, 573-882-6217, fitzgeraldac@missouri.edu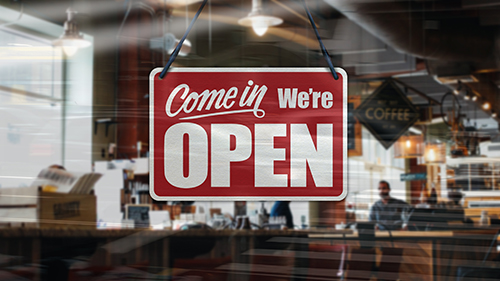 Columbia, Mo. – As the COVID-19 curve begins to flatten, businesses in Missouri are navigating complicated challenges as they begin to reopen. Supply chain interruptions, worker safety and liability issues are just a few of the barriers COVID-19 has created during this time, but last week, members of Missouri's business community had the opportunity to hear from University of Missouri System leaders about ways to deal with this crisis.
Deans and professors from law and business schools across all four UM System universities gathered last Thursday for a roundtable discussion about a number of issues that have come to the forefront now that Missouri businesses are reopening. Moderated by Marshall Stewart, Chief Engagement Officer for the UM System, the panelists responded to audience questions about the struggles currently faced by Missouri businesses and offered solutions.
"Innovation is the calling card of our time, and we are going to have to innovate our way through this post-pandemic economy," said Ajay Vinzé, dean of the Trulaske College of Business at the University of Missouri-Columbia.
Vinzé kicked off the panel by describing innovation as a series of layers with technology at the core, followed by products and services, day-to-day processes and business models. These aspects of innovation must work together to successfully adapt in challenging times, Vinzé said.
Keng Siau, department chair and professor at Missouri University of Science and Technology's Department of Business and Information Technology, agreed that the businesses that evolve their services and processes are more likely to weather the impact of the virus.
"Most businesses are not prepared for a pandemic," Siau said. "So how do you minimize the impact on your production and operations? It goes back to process innovation. For example, restaurant owners understand that their customers still need to eat despite social distancing requirements. Many of them were very quick to change and expand services like takeout, online ordering and delivery."
The panelists also highlighted the various ways that the UM System universities are contributing research and resources that could help businesses navigate this troubling period. The University of Missouri-St. Louis' Charles Hoffman, dean of the College of Business Administration, noted UMSL's Supply Chain Risk and Resilience Research Institute, which studies how businesses can create resilience and lessen risk in their supply chains. Given that supply chains have been interrupted on a global scale during the pandemic, the institute's work is more important than ever, Hoffman said.
MU School of Law dean Lyrissa Lidsky highlighted the school's Entrepreneurship Legal Clinic, which she said is an important resource for small and start-up businesses at a time when COVID-19 is having a "vast and developing" effect on the law. Vinzé also discussed the College of Business's Center for Entrepreneurship and Innovation and the new Master of Science in Business program, both of which emphasize flexibility and adaptability in careers and education. Vinzé said these programs are not only helpful during a crisis in which adapting is necessary, but are also an important way to prepare the entrepreneurs and business leaders of tomorrow for future crises.
From the University of Missouri-Kansas City — home of the UMKC Innovation Center, which will be offering a series of workshops this summer to help small businesses recover — Henry W. Bloch School of Management dean Brian Klaas expressed a need for clear communication from business leaders. In particular, projecting empathy and explaining the "why" behind the decision-making process are ways in which leaders can improve morale in an otherwise dour situation, Klaas said. He added that UMKC is instilling these values in a new generation of business students through the Regnier Institute for Entrepreneurship and Innovation's Entrepreneurship Scholars program, which connects students with accomplished entrepreneurs in the Kansas City community.
On the technological side of innovation, which Vinzé referred to as the "core" of innovation, the panel mentioned Missouri S&T's Center for Technology Transfer and Economic Development — one of the Missouri's Small Business Development Centers — which helps businesses commercialize new technology to stimulate economic growth.
Though the panelists covered a wide range of topics related to businesses and COVID-19, Stewart remarked that he hoped the panel would be only the beginning of many more conversations of practical interest to the community. Stewart said future talks might focus in-depth on more specific topics, such as challenges that apply to specific regions of the state or the nuances of liability law at a time when many are working from home. But regardless of what will follow, Stewart proclaimed the panel a resounding success and a reminder of the importance of looking ahead.
"It has been great to see this collaboration today across the entire UM System. We have all been hard at work in our own areas, but it has been inspiring to see this group of leaders step forward and say, 'We want to help,'" Stewart said. "This discussion has been a great learning experience, and it drives home the point that we always need to be thinking about the unforeseen events that might be waiting on the horizon."
The roundtable discussion can be viewed in its entirety here.
Reviewed 2020-05-27