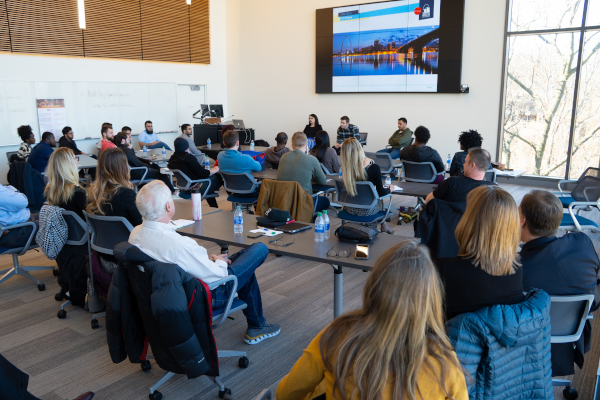 One of the EQ training workshops brought student entrepreneurs together at UMSL, where they learned from experts at the Cortex Innovation Community based in St. Louis.
Entrepreneurship can start at any age—and the University of Missouri System is looking to help young entrepreneurs get their start. Each year, students from all four UM System schools have the chance to jump-start their own venture with the Entrepreneur Quest (EQ) Student Accelerator. This year's virtual event may be different than previous years, but the economic uncertainty accompanying the COVID-19 crisis highlights that there is no better time to help support students in building entrepreneurial skills that can give them an edge.
This round of EQ began last fall, when all four universities held student workshops covering business models, venture pitching and the EQ application. University and business leaders selected the most promising applicants to pitch in a semi-final competition at each university. These semi-finalists participated in the eight-week EQ educational program, where they participated in workshops, mentoring, demo days and coaching from local entrepreneurs to sharpen their pitching skills. At the end of the educational program, the semi-finalists from MU, UMKC, Missouri S&T and UMSL competed in another pitch competition where judges picked three finalists from each university to compete in a system-wide competition.
Due to social distancing restrictions, the system-wide pitch competition could not happen in-person. Luckily, the UM System's switch to online platforms made it possible to hold the competitions on April 15 and 16 via Zoom.
"I know the last several weeks have been difficult, and I am so glad that we have this competition to support our student entrepreneurs as they solve real-world problems," said President Choi in opening remarks for the event.
The finals were also supported by a generous donation from Dave Spence, a Mizzou alumnus who has his own business in the St. Louis area. Of the final 12 teams that pitched to a panel of judges for the chance to make their business dreams a reality, the winners were:
1st Place: Pollinate

Drew Patel, sophomore, computer science at MU, from Springfield, MO.

After personally experiencing the difficulties that prevent e-commerce in countries outside the U.S., Drew found a way to fill the gaps that prevent packages from reaching consumers in emerging markets. He developed delivery infrastructure for East Africa that unifies the delivery flow. His platform allows major companies like Amazon to stop paying exorbitant fees to different subcontractors for door-to-door shipping and allows customers to pick up packages at their local street stall. Drew is planning to expand his service to other countries in Africa and explore acquisition opportunities.

2nd Place: Bionic Bowel

Vanessa Marie Mahan, senior, biological sciences at Missouri S&T, from Kansas City, MO.

Vanessa's sister is one of 3 million Americans suffering from Crohn's disease. To help alleviate their suffering, Vanessa has developed a potential new treatment for Crohn's using bioactive glass (think sugar, not shards) by treating the cause, not just the symptoms. Her bioactive glass pill is designed to implant and dissolve in the lower intestine to heal ulcers and prevent scar tissue in the damaged area. Her next steps are to publish her work in a scientific journal, apply for patents and grants, all while ensuring that the product can remain available for low-income families.

3rd Place: Vest Heroes

Fahad Qureshi, 3rd year student in 6-year MD program at UMKC, from Glenview, IL.

After losing his friend Adam in a car accident in childhood, Fahad wanted to improve surgery success for both patients and doctors. As a medical student, he learned that health care workers suffer from back pain and mobility problems due to the heavy vests (sometimes up to 60-lbs) they wear as protection during procedures involving X-rays or radiation. As a solution, he created Vest Heroes: an operating room system that transfers the weight of the protective vest off the health care professional, making it easier for them to perform sensitive maneuvers required during long surgeries. Fahad is already producing his product for hospitals in the U.S., and is looking for a way to scale up his production.
EQ provides training and support that equips student entrepreneurs with the skills to help them solve the challenges in society that are most important to them. As their businesses compete and grow, these students will continue to embody the UM System's mission to advance student success.
Reviewed 2020-04-17