HARC: One Good, Charitable, Apple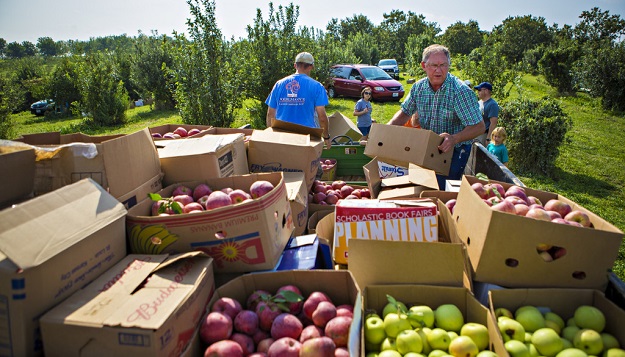 John Poehlmann, assistant director, of the Agricultural Experiment Stations, loads apples onto a wagon bound for donations.
Agriculture has been given a challenge with the task of feeding a world population that could reach 9 billion by 2050. To feed our growing race, worldwide production would need to double. Research at the College of Agriculture, Food and Natural Resources (CAFNR) at the University of Missouri is working to do this through studies involving major commodity crops such as corn and soybeans as well as battling pests and diseases to increase overall production efficiency in a sustainable way.
Almost all studies involve testing and observing plants in real-world scenarios at many of CAFNR's Agricultural Research Centers located throughout Missouri. Sometimes that research involves food that is discarded or unattainable for human consumption. Thankfully, some food finds it in the hands of those in need, particularly from apple orchards at the Horticulture and Agroforestry Research Center (HARC) near New Franklin.
"For at least 20 years we have been collecting apples from the orchard here to donate to local charities and food banks," said John Poehlmann as he stacked boxes of picked apples on a sunny Saturday afternoon in late September. "This is something my wife, Linda, helped start and has been a great benefit to people around the area that need the help."
John and Linda joined dozens of volunteers from their local church, community groups, clubs and other CAFNR faculty and staff at HARC this fall to pick more than 10,000 pounds of apples to be donated to The Food Bank for Central and Northeast Missouri and the Moniteau County Nutrition Center in California.
That donation included 223 pounds picked by the MU Horticulture Club; a local team of USDA members picked 1,953 pounds and Poehlman's group picked 6,370 pounds. On another day, Moniteau County Nutrition Center volunteers from California, Mo., picked 2,400 pounds.
Share This
About this Story
Campus: UMC
Key words: Agriculture, MU Campus, UM System,
County: Moniteau