LaVell Monger and the Associated Black Collegians take action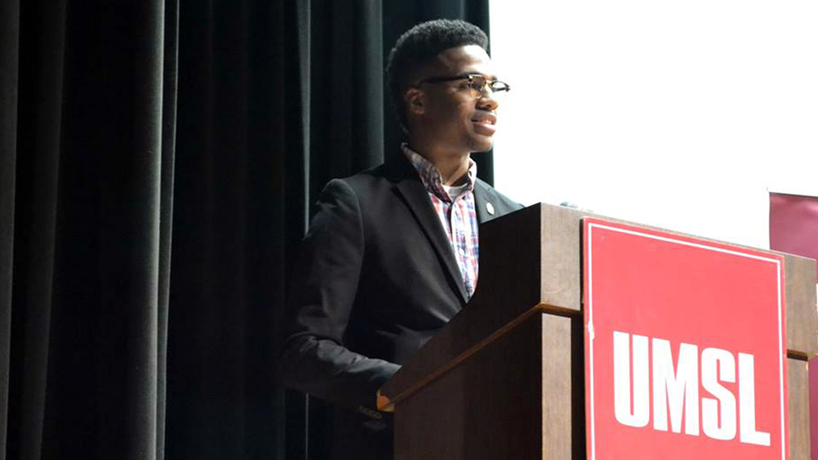 Mastering the fine art of leadership can take a lifetime of practice, but for LaVell Monger, president of the Associated Black Collegians, motivating peers and community seems to be an innate gift.
"I can honestly say working with folks comes naturally ­­­­­– it's just that big brother instinct I have," said the University of Missouri-St. Louis anthropology senior. "Ever since I was younger, I remember people coming to me for advice, and I try to give everyone my all. "
The Big XII Council on Black Student Government lauded Monger's leadership efforts by presenting him with the Outstanding Non Big XII Senior of the Year award and a $1,000 scholarship at the organization's annual conference Feb. 27. Sweetening the pot, the council also presented ABC with the Outstanding Non Big XII Council of the Year award and a $750 cash prize.
"When I was at the banquet with the other ABC members, and the announcer said my name, I was like 'whoa.' Everyone gave me a standing ovation. That was pretty dope," said Monger. "And then when the judges gave ABC an award too, it was a shock. So we had a clean sweep in our category."
Ashlee Roberts, assistant director of UMSL Student Life and ABC adviser, considers the Big XII Conference on Black Student Government awards a confirmation of the hard work Monger has put into his year as ABC president.
"LaVell is learning how to navigate multiple aspects of his life in different forums while maintaining personal authenticity," said Roberts. "In the light of everything that happened at Mizzou and with the UM System president, he has had the opportunity to learn and show his peers how the ABC organization serves as an important voice for black students on campus."
Share This
About this Story
Campus: UMSL
Key words: Competitiveness, President, St. Louis Campus, Teaching, UM System,
County: St._louis