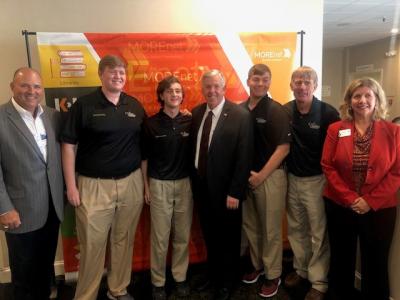 Demand for technology-focused jobs is expanding, especially in cybersecurity. It is estimated by 2021, there will be nearly 3 million unfilled cyber security jobs. In order to address the shortage of workers, the University of Missouri (UM) System's MOREnet and the Missouri Cybersecurity Center of Excellence are working together to train the next generation of workers through events such as the Missouri High School Cybersecurity Challenge.
One hundred and fifty-nine Missouri high school students competed in the inaugural Missouri High School Cyber Security Challenge. The top ten teams competed in the final round, and were honored by Gov. Mike Parson during the MOREnet Annual Conference on October 9. Three teams from schools across the state received grants and scholarships to the University of Missouri College of Engineering, as well as other schools in the state. The first-place winners were Vianney 1 from St. John Vianney High School, followed by the Renegades in second and MID in third, both from Summit Technology Academy from Lee's Summit School District. Winners received a combined total of $10,000 in grants, in addition to scholarship offers.
By competing in this challenge, students learn skills like how to detect and create network vulnerabilities, giving them the knowledge of how to keep networks safe. This competition also prepares students to face challenges they might later encounter on the job. Further, students who develop these interests early in their education are more competitive when it comes to starting their careers.
As a part of the University of Missouri System, MOREnet provides technology services to over 700 members including K-12 schools, other higher education institutions and public entities such as libraries and local government. They initiated this statewide event in order to provide opportunities for talented students to strengthen Missouri's workforce and develop a brighter future for the state that is facing a shortfall of cybersecurity skilled workers. MOREnet was excited to offer a program that directly aligns with the system's strategic initiatives, including Student Success and Engagement and Outreach. The Engagement and Outreach initiative works to establish innovative partnerships with industry, government and non-profit organizations to encourage workforce economic development.
Workforce development has not only been a university initiative, but a state effort as well, through the Missouri 2030 Strategic Initiative. According to a poll by the Missouri Chamber of Commerce, only 44% of current Missouri business owners are satisfied with the abilities of the state's workers. These business owners cited weaknesses in the ability to prepare, attract and retain skilled workers. Through Missouri 2030, the state is looking to prepare the workforce using new goals and action steps to attract a highly-skilled workforce to the state. 
The UM System is the state's largest workforce development pipeline. At the Missouri 2030 Conference on October 15, UM System President Dr. Mun Choi described additional system initiatives that align the university with the state's mission to strengthen the economy. The cybersecurity challenge and other opportunities prepare students for jobs impacted by future disruptive technologies. The future is coming, and the UM System is helping Missouri prepare for it.
 
Reviewed 2019-10-29