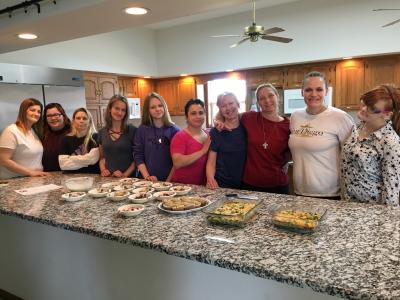 Cooking Matters Participants
Learning to cook and shop for healthful meals on a budget is among the many life skills that people who are incarcerated may not have had the opportunity to learn. These skills are important for everyone, but for those who are incarcerated, learning these skills will help them better adjust to life outside of prison and change their lives.
In February 2019, the newly remodeled Fulton Community Supervision Center reopened as an all-female facility in order to address the increasing population of incarcerated women in Missouri. Each woman is put through a four-phase program to meet their personal needs, including employment-readiness preparations, on-site substance abuse disorder services, cognitive interventions, housing plans and family reunification.
Partnerships with local organizations like the University of Missouri Extension fund programs to teach these women basic life skills, such as goal setting and meal preparation. One of these partnerships is the Cooking Matters program. MU Extension county engagement specialists in nutrition and health Lynda Zimmerman and Tyler Hall taught the 6-week Cooking Matters course, with the assistance of MU Extension nutrition program associate Heather Warren. The Cooking Matters program engages participants in hands-on nutrition and culinary activities, with topics ranging from meal planning to comparison shopping and safe food preparation. Nutrition lessons are based on MyPlate and the Dietary Guidelines for Americans, and the featured recipes call for relatively low-cost ingredients.
Thirty-one women have participated in the Cooking Matters program since February 2019. Surveys completed at the end of the courses showed the majority had learned skills for cooking and eating healthier. One participant commented, "It has helped me to see that healthy food can taste good."                                                               
Extension and center staff members invest in ensuring these women have the skills they need to change their lives by providing gender-responsive and trauma-informed techniques to better serve them. Cooking Matters, and other courses designed to help increase necessary life skills post-incarceration are important for keeping the women out of prison.
As part of the UM System, MU Extension's goal is to improve the quality of life for all in Missouri, the nation and the world. By partnering with the Fulton Community Supervision Center, Extension is able to improve life for women who would normally be left out by engaging them to learn new skills.
Reviewed 2019-12-02