Protecting the Monarch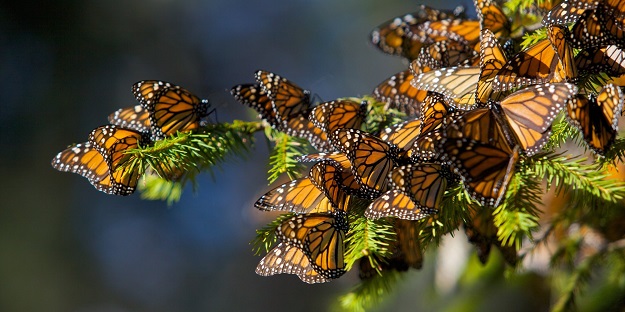 Many monarchs alight on a treebranch to rest. Image courtesy of the Huffington Post.
The monarch butterfly population has seen a steady decline during the past two decades.
There are many factors beyond our control, including climate, which negatively impact the monarch population. One way to help, though, is by supporting and planting habitat specific to the monarch.
Monarchs fly up to 3,000 miles during their two-way migration. To fly that distance, monarchs need waystations – which are resting plots full of sources of nectar and host plants.
"Monarch waystations are places that provide resources necessary for monarchs to produce successive generations and sustain their migrations," said Chip Taylor, University of Kansas professor of entomology. "Without milkweeds throughout their spring and summer breeding areas in North America, monarchs would not be able to produce the successive generations that culminate in the migration each fall. Similarly, without nectar from flowers these fall migratory monarch butterflies would be unable to make their long journey to overwintering grounds in Mexico.
"The need for host plants for larvae and energy sources for adults applies to all monarch and butterfly populations around the world."
Along with being a professor of entomology, Taylor runs monarchwatch.org. The website is devoted to informing the public about the plight of the monarch. Taylor's work has had an impact on the University of Missouri College of Agriculture, Food and Natural Resources.
Share This
About this Story
Campus: UMC
Key words: Agriculture, MU Campus,
County: Boone