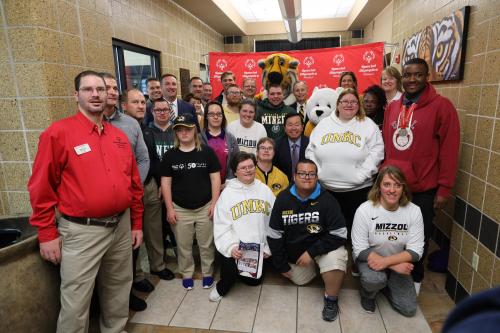 Along with the news that Columbia will host the 2020 Special Olympics, the University of Missouri System, MU Health Care and Special Olympics Missouri announced a statewide partnership to combine resources to impact lives across the state.
Special Olympics Missouri has 16,400 athletes, 30,000 volunteers and 1100 coaches statewide participating in 21 different sports. Many of these athletes, volunteers and coaches are connected to the UM System and help create extraordinary experiences for individuals with intellectual disabilities.
This partnership will leverage the statewide reach of Special Olympics Missouri with that of the UM System and MU Health. Supported by this partnership, the UM System and Special Olympics Missouri will be able to work collaboratively to better engage all individuals by providing them with opportunities to bring better fitness, nutrition and healthier lifestyles.
"With campuses located in Columbia, Kansas City, Rolla and St. Louis, the University of Missouri System is uniquely positioned to support the statewide reach of Special Olympics Missouri," UM System President Mun Choi said. "I am excited to see where this partnership will lead."
All four UM System schools have deep ties to Special Olympics Missouri. The Novak Leadership Institute at the Missouri School of Journalism has been working with Special Olympics Missouri for the past six semesters to create an Athlete Leadership Program to develop leadership and life skills for intellectually and physically disabled athletes. At the University of Missouri-Kansas City, the Propel Program has helped give Special Olympics athletes the opportunity to earn higher education credentials that can lead to employment and independence.  Furthermore, to raise funds for Special Olympics Missouri, the Missouri University of Science and Technology police officers sell t-shirts and participate in the Missouri Torch Run, an 11-day run covering more than 950 miles. Finally, the University of Missouri-St. Louis School of Optometry has been providing vision screenings, eyeglasses, sunglasses or sports googles to Special Olympics participants for years. Other UM System organizations have raised thousands of dollars over the years, and some UM System athletes even assisted in cleanup when a tornado tore through the Special Olympics headquarters earlier this year.
The UM System works to build and sustain campus climates that value diverse backgrounds, experiences, and perspectives, as well as develop effective programs for educational, health and social outreach with local, state, and global communities through its engagement and inclusion programs. Through the Missouri compacts and our vision of "advancing the opportunities for success and well-being for Missouri, our nation and the world through transformative teaching, research, innovation, engagement and inclusion," the UM System will build meaningful and productive connections in our community.
Reviewed 2019-11-07