Truman's Closet Dresses Mizzou for Success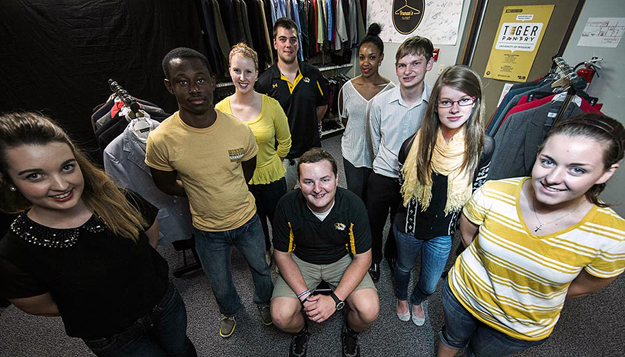 The Truman's Closet staff, from left: Mikala Vaughn, Lanre Shitta-Bey, Brianna Donahue, Charles Hall, Sean Joy (sitting), Sarah Snow, Curtis Jones, Heather Parrie, Lauren Alexander
Walk into Truman's Closet at the University of Missouri, and you'll see a whole lot of BCBG: business casual black and gold.
The new resource, launched Oct. 1, lends professional clothing to MU students, faculty and staff for free.
Truman's Closet, located in the Rock Quarry Facility, initially will be open three days a week:
Sundays 2:30 — 5 p.m.
Tuesdays 9 a.m. — 12 p.m.
Thursdays 3 — 6 p.m.
"Eventually we're hoping to have one day in the Student Center if students can't make it off campus," says Kathleen Kowalsky, coordinator for Truman's Closet and a sophomore studying textile and apparel management.
Volunteers for Truman's Closet help customers choose an outfit based on the event they're attending — be it an interview, a presentation or a conference — and help them prepare mentally by asking interview prep questions.
"When you walk into an interview, the first thing they're going to see is what you're wearing," Kowalsky says.
Share This
About this Story