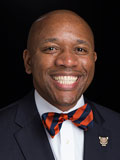 Kevin McDonald
Chief Diversity, Equity and Inclusion Officer
320 Jesse Hall
573-882-3394
mcdonaldkg@umsystem.edu
Office of Diversity, Equity and Inclusion
The Office of Diversity, Equity and Inclusion works collaboratively systemwide, with faculty, staff, and students, to create an overarching diversity framework aimed at connecting diversity and inclusion to functional areas throughout the institution. The office focuses on four nationally recognized areas of providing education on and promotion of diversity:
Access and Success – higher graduation rates for a more diverse student body; increase diversity among faculty and staff.
Campus Climate and Intergroup Relations – create a welcoming environment to acknowledge and celebrate diversity; provide opportunities for groups to interact and communicate.
Education and Scholarship – prepare students for the global marketplace; support the curricular/co-curricular efforts of faculty and staff; provide support for research on diversity.
Institutional Infrastructure – create an infrastructure that supports diversity goals within the University's strategic plan and ensure that policies and processes reflect diversity and inclusion goals.
The office was established in July 2016 as part of a series of strategic initiatives implemented in 2015 to address areas of diversity, equity and inclusion across the four-campus University of Missouri System.
Reviewed October 11, 2016.