Examining AIDS Prevention Education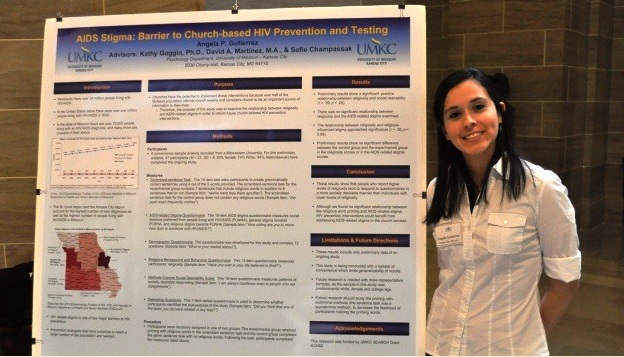 Angela Gutierrez, a junior at the University of Missouri-Kansas City, researches potential ways to advance public health education.
Research shows that more than half of Missourians report they attend church at least once a week. Angela Guiterrez, a junior at the University of Missouri-Kansas City, realized that could mean churches have the potential to be powerful allies in spreading the word about preventing AIDS and treating those with the chronic disease. But she wondered if the stigma of HIV and AIDS, particularly in religious settings, could interfere with the public health message.
Guiterrez was one of 46 students to present research at the Capitol Rotunda March 1 as part of the University of Missouri System's Undergraduate Research Day. As part of the day, Gutierrez was able to visit with legislators from her hometown and tour the chambers of the Missouri House and Senate.
Guiterrez is conducting a survey to learn more about potential ways to advance AIDS awareness. Among other things, she's measuring an individual's stigma about AIDS as well as how strongly they identify themselves as being religious. So far, she has found little difference between those who were and weren't religious. At this time, her research suggests that churches could play a positive role in distributing such information.
Guitterez said growing up in Puerto Rico spurred her interest in chronic diseases and working to improve people's quality of life. She said she observed that those with the least resources often suffered the most from chronic diseases and that low-cost measures, such as prevention education, could go a long way to improving health. When she graduates, Gutierrez plans to pursue a Ph.D. in clinical psychology.
Having the opportunity to participate in research—and work directly with seasoned faculty members—has been among the highlights of her college experience.
"There are things you learn doing research that you just can't learn in a textbook," she said. "It teaches you critical thinking. Instead of just accepting everything, it makes you question the world in new ways."
Learn more about some of the undergraduate researchers:
Aver Yakubu, University of Missouri-Columbia
Joseph Kurtz, Missouri University of Science and Technology
Patrilie Hernandez, University of Missouri-St. Louis
Share This
About this Story
Campus: UMKC
Key words: Health, KC Campus, UM System,
County: Jackson