Students Document Life in Jefferson County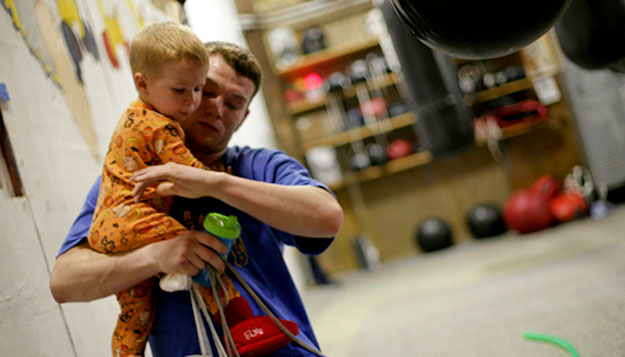 Photographers from MU's School of Journalism visit Festus and Crystal City to hone their story-telling skills while adding images to an archive that documents small town life. At right, boxer Robbie Cannon of Crystal City is pictured with his son, Austin.
In the second half of the 19th century, Ebenezer B. Ward simultaneously founded the American Plate Glass Company and the town of New Detroit in the silica-rich area that rises up from the Western banks of the Mississippi River. New Detroit would become Crystal City, the adjacent town of Tanglefoot would become Festus, and these cities 34 miles south of St. Louis would remain inextricably linked in the 140 years since.
Visitors to the Twin City community of Festus and Crystal City have difficulty knowing which town they're in at any time; it often changes in the middle of the block. The Wal-Mart Supercenter straddles the city boundary, but public services are duplicated on either side of that boundary. Each city has its own police force, volunteer fire department, library and school system, and the sales tax revenues from the Wal-Mart are equitably divided between the two cities.
Share This
About this Story
Campus: UMC
Key words: MU Campus, Teaching, UM System,
County: Jefferson