New Mobile Simulation Service Rolls Out Training to Rural Areas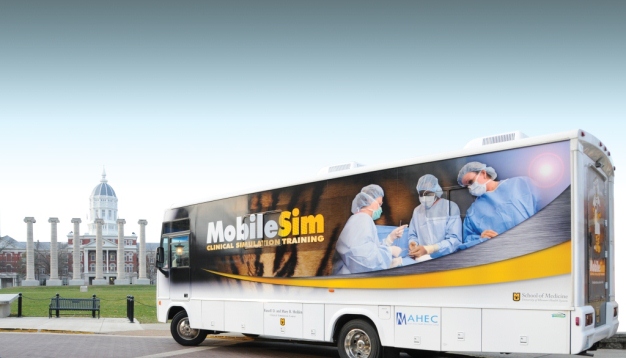 The Mobile Sim clinical simulation service was created in response to the need for interactive and high-tech training resources in rural areas. On board the 30-foot vehicle are three computerized patient mannequins and virtual reality devices with the ability to simulate more than 110 medical scenarios.
Thirty-foot vehicle delivers resources across Missouri to meet need for on-site education.
As a nurse educator at Phelps County Regional Medical Center, Sue LaPlante knows the challenges of providing the latest health care training equipment and techniques to professionals in rural areas. She found a solution parked just outside her hospital when her staff participated in a hands-on learning session with the University of Missouri's new mobile clinical simulation service, Mobile Sim.

"Many of our staff members had valuable 'a ha' type moments that I know they will carry forward into their individual practice settings," LaPlante said. "By participating in this new simulation training, skills like teamwork, situation awareness and decision making were honed."

The MU School of Medicine and its Russell D. and Mary B. Shelden Clinical Simulation Center, in partnership with Missouri Area Health Education Centers (AHEC), created Mobile Sim in response to the need for interactive and high-tech training resources in rural areas. Mobile Sim has visited more than a dozen institutions across Missouri and served more than 800 people, from high school students interested in medicine to physicians, since it launched April 27, 2011, during a roll-out celebration at the Missouri Capitol.

On board the 30-foot vehicle are three lifelike computerized patient mannequins and virtual reality devices with the ability to simulate more than 110 medical scenarios. Mobile Sim is also equipped with cameras to record participants and data storage devices to capture a variety of information from training sessions. Mobile Sim's trained staff provides on-site setup and assistance for each session, and patient actors can be employed to make learning experiences even more realistic and effective.

FULL STORY>>

Share This
About this Story
Campus: UMC
Key words: Health, Innovation, MU Campus, Teaching, Technology, UM System,
County: Boone