Schools of Dentistry and Nursing and Health Studies awarded up to $4.38 million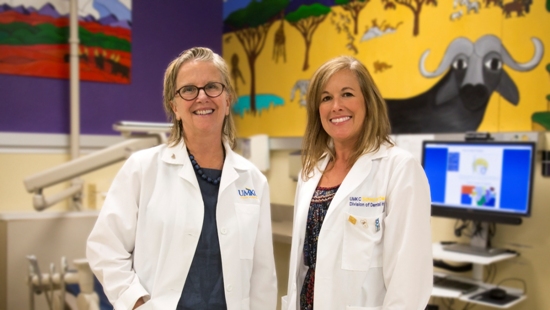 UMKC professors Pat Kelly of the School of Nursing and Health Studies and Melanie Simmer-Beck of the School of Dentistry are co-investigators on a National Institutes of Health grant, potentially totaling $4.38 million, to study dental hygienist care of Kansas children. Photo by Janet Rogers, Division of Strategic Marketing and Communications, courtesy of UMKC Today.
The University of Missouri-Kansas City School of Dentistry and School of Nursing and Health Studies each are longtime leaders in providing health care to children, especially in low-income and minority populations. Now, supporting this ongoing work, the National Institutes of Health awarded the schools research funding potentially totaling about $4.38 million in the next five years.
UMKC investigators plan to collaborate with the Kansas Bureau of Oral Health School Sealant Program and examine the impact of dental hygienists in Kansas, assessing oral health and social outcomes in pre-kindergarten- through high school-aged children from 17 underserved, primarily rural communities who receive school-based care from dental hygienists. A cost analysis also will be conducted. This project leverages existing relationships established by the Kansas Bureau of Oral Health and will reach children in about 355 schools in 108 school districts throughout the state.
"The Kansas Department of Health and Environment's Bureau of Oral Health is proud to have this opportunity to partner with the University of Missouri-Kansas City Schools of Dentistry and Nursing and Health Studies and all stakeholders involved to further the goals of this National Institutes of Health grant," said KDHE Bureau of Oral Health Director Cathleen Taylor-Osborne. "We look forward to collaborating with our partners to decrease oral health disparities of children in our state. Kansas is uniquely positioned in providing oral health care by the extended-care permit dental hygienist and this funding opportunity will allow the evaluation, data collection and formulation of evidence-based recommendations to further improve the health of Kansas children."
Share This
About this Story
Campus: UMKC
Key words: Competitiveness, Health, KC Campus, Science, Teaching, Technology,
County: Jackson