The Doctor Will See You Now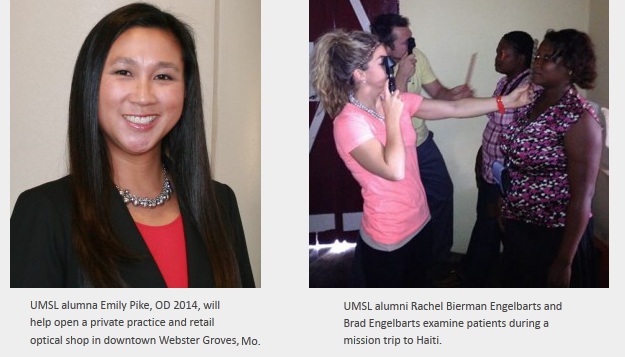 From classroom to career: Latest wave of optometry graduates enter work force.
Emily Pike worked in the public health field for 12 years but felt something was missing. She found a fit after shadowing an optometrist and enrolled in the College of Optometry at the University of Missouri–St. Louis.
After four years, Pike finds herself among 39 students who graduated from the program in May, all of them with jobs already lined up in the optometry field. She will help open a private practice and retail optical shop in downtown Webster Groves, Mo.
"It's a new venture that I'm happy and excited to take on," Pike said. "The practice will emphasize customer service and the impact that great quality of care has on someone's life."
Pike and this year's graduating class are not an anomaly for the College of Optometry, according to Nick Palisch, program director of student services for the college. A 100 percent job placement rate has been concurrent for the last five years. Palisch estimated about half of the graduates enter private practice, 20 percent enter a residency, 5 percent enter the military and the remaining graduates go on to work in a corporate setting, like Costco or LensCrafters.
Two students, Brad Engelbarts and Rachel Bierman Engelbarts, will move to the South Carolina coast to begin employment as optometrists for the Navy and Palmetto Eye Specialists, respectively.
Brad joined the Army right after high school, and fell in love with the optometry profession while stationed in Seoul, South Korea, and working in an eye clinic. He later fell in love with his classmate, Rachel, who he met on his first day of class at UMSL. But as Rachel pointed out, it took a year before they began hanging out for study sessions.
Share This
About this Story
Campus: UMSL
Key words: Competitiveness, Health, St. Louis Campus, UM System,
County: St._louis