UMKC donates scholarship to family of slain soldier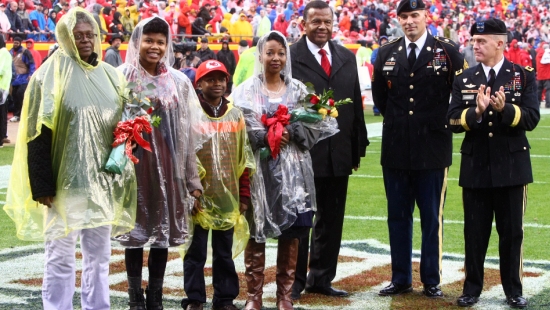 Photo courtesy of Kansas City Chiefs.
At age 9, Jakweli Gist is easily the youngest person to ever earn a full tuition scholarship to theUniversity of Missouri-Kansas City.
At his age, he's somewhat more excited by the NFL football autographed by the Kansas City Chiefs players that he received along with his scholarship on Dec. 13. Over the years, he'll no doubt come to treasure both as tributes to his late father's service to our nation.
The Gist family of Kansas City was honored at Sunday's Chiefs game against the San Diego Chargers as part of the team's Military Appreciation Day. Jakweli was joined on the field by his mother, Raheisha Gist, and 13-year-old sister, Jendayah Gist, along with team and military officials and UMKC Chancellor Leo E. Morton. The children's father, Sgt. Milton Gist Jr. (U.S. Army), was killed in action in Iraq in 2007 in Ar Ramadi, Iraq during Operation Iraqi Freedom.
Share This
About this Story
Campus: UMKC
Key words: KC Campus, Teaching,
County: Jackson